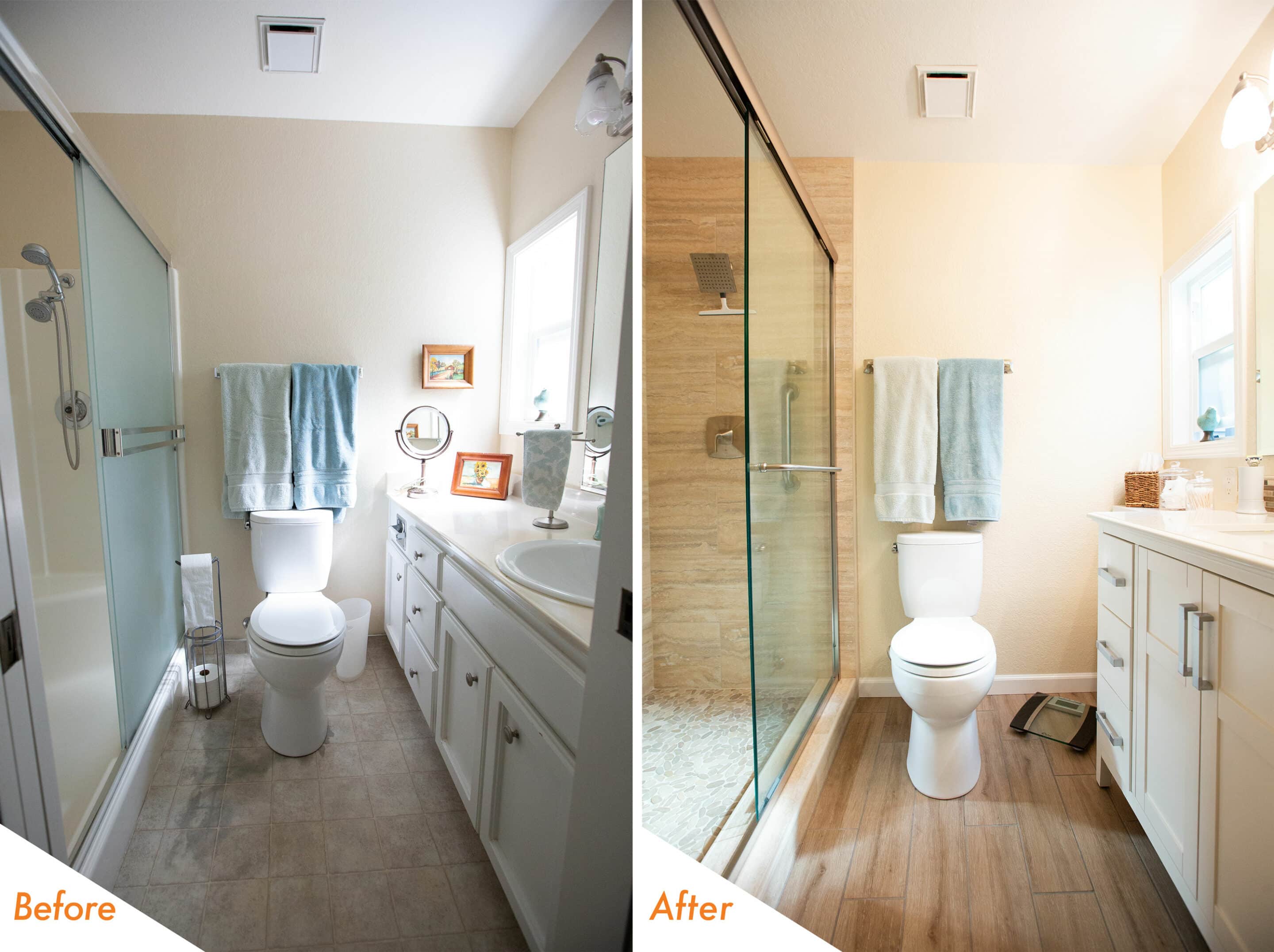 BathCRATE is all about making the homeowners experience easy and painless! Our favorite new aspect of this remodel has to be the shower, with the new Bedrosians tile, hidden niche, and sleek shower door that provides a stunning finish. A few other highlights include the new vanity cabinet, the lovely new floor tile, and the floating shelves we added to the end of the vanity! But don't take our word for it, take a look at what the customer had to say below:
The Homeowner's BathCRATE Experience
What was your favorite part of the kitchenCRATE process?
Our favorite part of our bath crate was their efficiency. They cared that we were completely satisfied with the results.
What was your favorite part about the BathCRATE team?
Our favorite part about the team was they were very professional and they actually finished the job.
Was there anything about the process or project that surprised you? If so, what was it?
I was pleasantly surprised that Chris would text me each evening to tell me who and what would happen the next day. We love our new bath and we are happy with the Bath Crate experience
Let us know in the comments your favorite feature of this bathroom remodel! 
Bathroom Remodel Before & After Project Complete Pictures
(Click each image to enjoy a larger view.)
Technical Details
Interested in Bathroom Remodels? Contact Us Today!
Perhaps this bathroom at Camborne Drive in Modesto reminds you of your home. Perhaps you like the layout of your bathroom and the cabinets are in good condition, but you are ready for a completely new look and feel. BathCRATE can make this happen in just a few days.
Just click here to schedule your phone consultation using our online scheduling system. Or feel free to call us direct during business hours at 888-995-7996!
Scott Monday is the founder and CEO of kitchenCRATE and bathCRATE. Follow him on Facebook or Linked-In.
Want to see more project profiles just like this? Want the latest kitchenCRATE projects, news and discounts delivered directly to your inbox? Simply click the button below!