Wow! This stunning makeover is a great example of how you can transform your often forgotten hall bathroom into a contemporary wonder! A few of our favorite aspects of this bathroom remodel include the beautiful new navy blue vanity & marble countertop. In the shower area, the new larger-format porcelain field tile simulates marble flawlessly and the stunning accent tile in the niche offers the perfect pop of color. Speaking of the niche, how about the size of this one!? The customer opted for a longer niche that's absolutely captivating in this space. A few additional highlights include the beautiful new floor tile, the Kohler Archer Tub, and the semi-frameless glass shower enclosure. We're absolutely thrilled with how this renovation turned out, but don't just take our word for it! Look below for the project specifications and extensive before and after pictures and Let us know in the comments your favorite feature of this bathroom remodel! 
Bathroom Remodel Before & After Project Complete Pictures
(Click each image to enjoy a larger view.)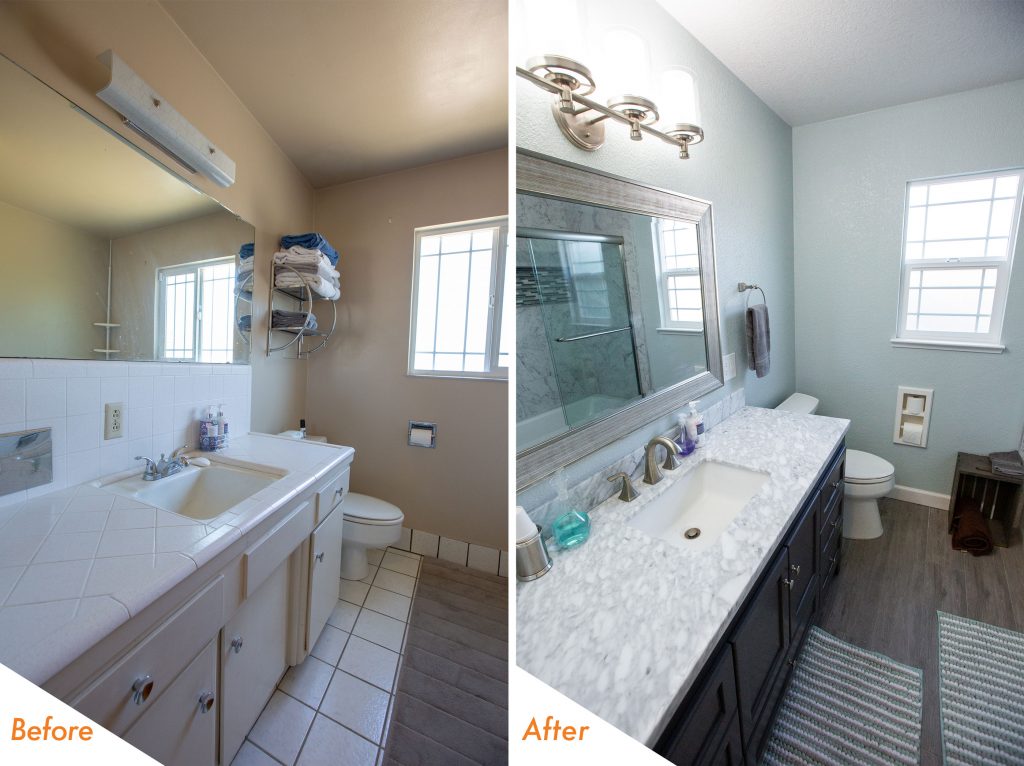 Technical Details
Interested in Bathroom Remodels? Contact Us Today!
Perhaps this bathroom at La Siesta Court in Turlock reminds you of your home. Perhaps you like the layout of your bathroom and the cabinets are in good condition, but you are ready for a completely new look and feel. BathCRATE can make this happen in just a few days.
Just click here to schedule your phone consultation using our online scheduling system. Or feel free to call us direct during business hours at 888-995-7996!
Scott Monday is the founder and CEO of kitchenCRATE and bathCRATE. Follow him on Facebook or Linked-In.
Want to see more project profiles just like this? Want the latest kitchenCRATE projects, news and discounts delivered directly to your inbox? Simply click the button below!