A relaxing Spa treatment is the first thing that comes to mind when we look at this recently remodeled bathroom! This transformation is proof that you can have both beautiful & high-quality finishes without adding high maintenance. Quartz countertops, large format tile throughout (which means less grout!), and under mount sinks all make maintaining this spacious bathroom a breeze; which is perfect since this luxurious retreat is the ideal place for the homeowners to pamper themselves! The walk-in shower has a whole new look with a new shampoo niche, disappearing drain, and the removal of the shower bench. All these little touches add up to a total spa experience without leaving home! Our favorite feature of this bathroom remodel is the custom cabinet designed to match the newly refaced vanity!
Take a peek at the before and after pictures, we bet you'll find more than one "favorite feature!"
Project Complete Pictures
(Click each image to enjoy a larger view.)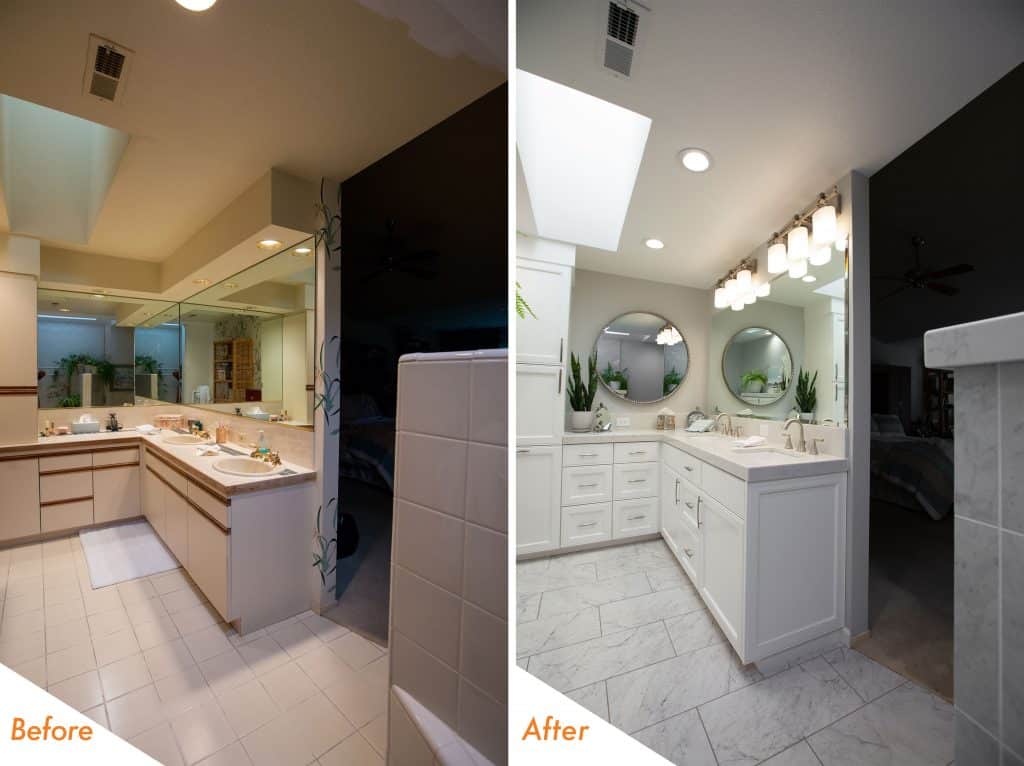 Technical Details
Are You Next?
Perhaps this bathroom at Petersburg Circle in Stockton reminds you of your home. Perhaps you like the layout of your bathroom and the cabinets are in good condition, but you are ready for a completely new look and feel. BathCRATE can make this happen in just a few days.
Just click here to schedule your phone consultation using our online scheduling system. Or feel free to call us direct during business hours at 888-995-7996!
Scott Monday is the founder and CEO of kitchenCRATE and bathCRATE. Follow him on Facebook or Linked-In.
Want to see more project profiles just like this? Want the latest kitchenCRATE projects, news and discounts delivered directly to your inbox? Simply click the button below!