Say goodbye to that outdated 4″ x 4″ tile, and hello to this beautiful new contemporary bathroom in Stockton! As you can see, this bathroom experienced quite the transformation. The first day of the project started with demo'ing the vanity, shower surround, and all of the tile. Then, we fur'd out the wall between the toilet and shower 2 inches to allow for more space, and we spent the next few days hanging sheetrock, mudding, taping, and texturing. After a successful pan liner inspection, our tile crew began installing this beautiful Bedrosians Studio Brown Sugar 12″ x 24″ shower field tile and Bedrosians Zen accent strip. One of our favorite features of this job is the beautiful new vanity from Kitchen and Bath Collection. The beautiful marble Carrara countertop provides the perfect contrast to the rich stain on the vanity that ties in the warm tones from the shower tile.
We're thrilled with the results, but don't take our word for it. See for yourself in the rest of the before & after pictures below!
Project Complete Pictures
(Click each image to enjoy a larger view.)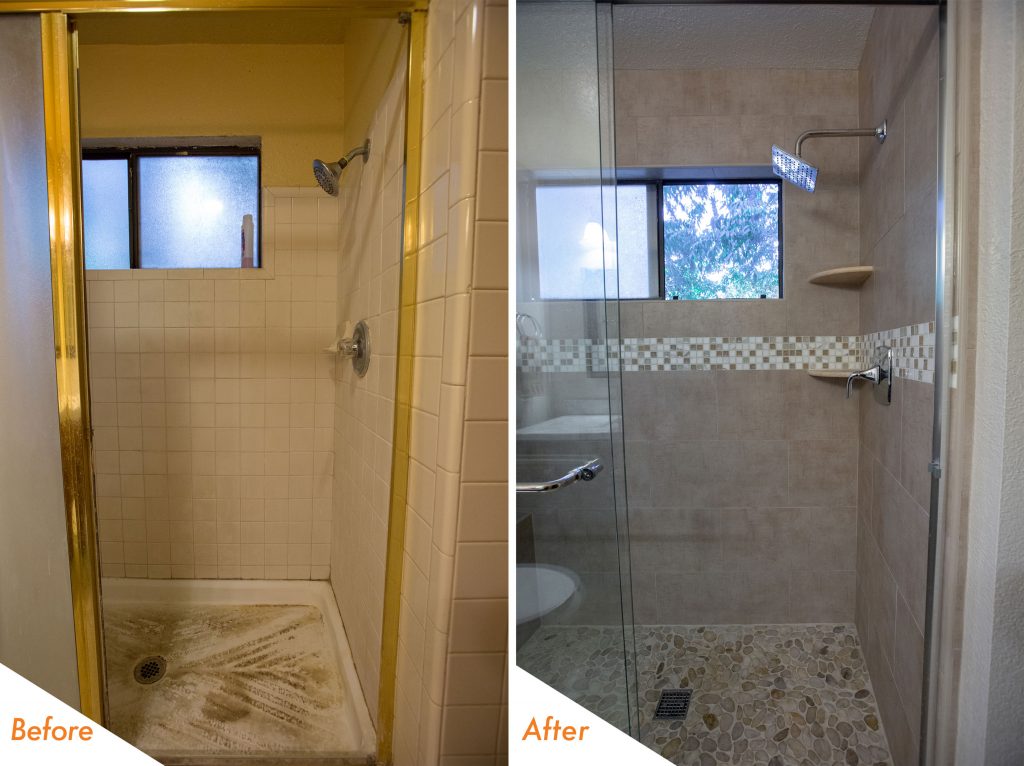 Technical Details
Are you next?
Perhaps this bathroom at Treasure Avenue in Stockton reminds you of your home. Perhaps you like the layout of your bathroom and the cabinets are in good condition, but you are ready for a contemporary bathroom remodel. BathCRATE can make this happen in just a few days.
Just click here to schedule your phone consultation using our online scheduling system. Or feel free to call us direct during business hours at 888-995-7996!
Scott Monday is the founder and CEO of kitchenCRATE and bathCRATE. Follow him on Facebook or Linked-In.
Want to see more project profiles just like this? Want the latest kitchenCRATE projects, news and discounts delivered directly to your inbox? Simply click the button below!