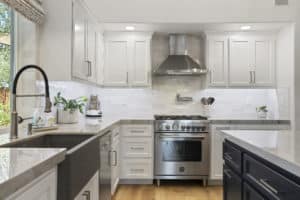 Take a moment and think about your kitchen. Do you love spending time in this space, preparing evening meals or baking holiday goodies with your loved ones? Is it easy to navigate, or do you find yourself frequently bumping into your co-chefs? Would you show your kitchen off or try to hide it from sight? If you don't like your answers to these questions, then it may be time for a kitchen remodel. However, if you're like many homeowners, you may find yourself wondering whether such a project would be worth it.
While the primary purpose of remodeling your kitchen is to improve your experience in this room, you know that projects like this inevitably affect home values. And, if you're a savvy homeowner, you likely want to avoid investing more into your house than you can recoup on the market. Fortunately for you and your outdated kitchen, most remodels tend to improve home values. The return you'll see on the market often depends on the type of project you invest in:
The High-End Kitchen Remodel
When your kitchen is old and damaged, and possesses the kind of layout that has you cooking alone, a high-end kitchen remodel may prove incredibly attractive. During one of these projects, your contractor will demolish your existing kitchen and create a brand-new space for you and your loved ones to enjoy. These projects often come complete with custom cabinetry, upscale countertops, beautiful plumbing fixtures, high-end lighting, stylish backsplashes, and more. And honestly, the benefits of a high-end kitchen remodeling project are easy to see: You'll end up with a stunning new space designed exactly for the way you use it.
How does a high-end kitchen remodel stack up against other types of projects when it comes to adding value to your home, though? Well, it turns out that potential home buyers appreciate beautiful new kitchens too. Remodeling Magazine estimates that homeowners on the West Coast recoup somewhere around 57% of their investment when selling their homes after extensively remodeling their kitchens.
The Mid-Range Remodeling Project
Perhaps your room doesn't require a total transformation, though. What should you expect during a mid-range kitchen remodel? During one of these projects, you'll likely work closely with your contractor in order to improve the parts of your kitchen that require attention while maintaining features that work. For example, refinishing your existing cabinets will reinvigorate the look of your kitchen without requiring a costly or time-consuming replacement. Taking cost-saving steps like this also leaves you with more money that you can use to splurge on a more impactful feature of your space, like countertops.
Mid-range kitchen remodeling projects are surprisingly lucrative when it comes to the value they add to West Coast homes. When putting their houses on the market, most residents find that they can recoup around 63% of their investment. That's because a mid-range kitchen remodel, when handled by an experienced professional, offers incredible bang for your buck with stylish updates and personalized touches that don't necessarily break the bank.
The Kitchen Touch-Up
No one really wants to relive the 90s, but a lot of kitchens seem to be stuck in that decade. If you'd like to bring your outdated, but otherwise functional, kitchen into the 21st century, you might consider a cosmetic kitchen remodel. A skilled contractor can refinish your cabinetry, either painting the original boxes or covering them in laminate veneer and installing new drawers and door faces. Since your cabinets are the most visible element of your kitchen, this seemingly minor project makes a huge impact when it comes to the style of your space.
Want to know the best part? Cosmetic kitchen remodeling projects often offer the best return on investment. In fact, when done well, homeowners can recoup up to 80% of their investment when reselling their homes!
Ultimately, any type of kitchen remodel you pursue will add value to your home. So, instead of sitting back and worrying whether remodeling will be worth it, why not reach out to a trustworthy expert to determine the kinds of kitchen upgrades you can enjoy?
If you live in California, there's no better remodeling team to turn to than kitchen & bath CRATE. Our signature turnkey process ensures your project will proceed smoothly from start to finish and leave you with a space you're sure to love for years to come. Contact us today to learn more.