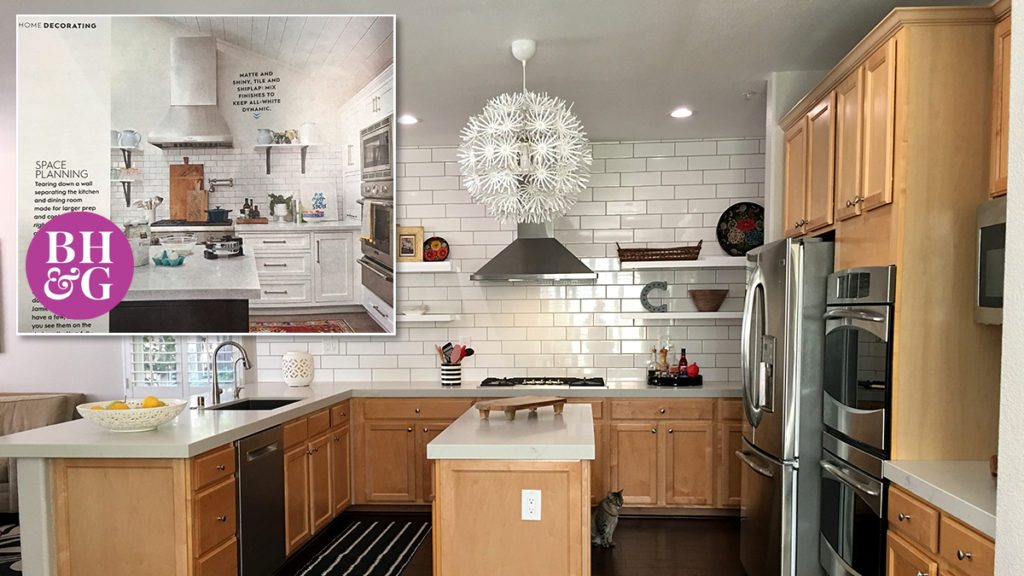 It is so fun to flip through your favorite home improvement magazine and become inspired by all of the wonderful projects. It is even better when you spot a project that you fall in love with and want to make it happen in your own home! That's what happened to a particular homeowner in Brentwood. She wanted to have her kitchen remodeled and came across the June 2017 issue of Better Homes and Gardens and fell in love with a featured kitchen and wanted that look in her home. Who did she call upon to make this happen? Kitchen & bath CRATE, of course!
In the video below, Scott and Jessica review this project as well as discuss some other cool renovation projects that were completed in the butler's pantry and dining area.
Below is a larger image of the kitchen comparison between the magazine and the new kitchenCRATE completed project. We like how the kitchenCRATE project raised the backsplash subway tile to the top of the wall to really heighten that space and that the hood vent is flush with the ceiling. We also like the new wine fridge and custom cabinet that were installed. This list goes on!
Are you thinking of renovating your kitchen or bathroom and have some photos of inspiration? Awesome! We love reviewing magazine photos, Pinterest boards, Houzz albums, etc. with our customers so we can make sure, with our design team, that we deliver the kitchen or bathroom they are envisioning. To get started, just give us a call at 888-995-7995 and talk with us about your project today!