Our most recent kitchenCRATE project features yet another renovation in preparation for the sale of the home!  It worked over on Neptune Cove, so we're guessing kitchenCRATE will add immediate value to this property as well!
Why the Homeowner Chose kitchenCRATE
Since 1976 this kitchen has served it's owner well.  However, the off-white tile, brown grout, and dated cabinets are simply too large of a stumbling block for potential buyers.
The homeowners came to kitchenCRATE via a customer referral from this kitchen remodel and fell in love with the idea of maximizing their potential sale price and minimizing out-of-pocket costs.
So here we go, turning this nearly four-decade-old kitchen into a modern masterpiece!
The Current Kitchen Specifications
Countertop and Backsplash: Off-white 6″ square tile with brown grout.
Cabinet Finish: Original stain-grade cabinets.
Cabinet Hardware: Aged brass hinges and dated pulls.
Sink: White cast-iron, original to the kitchen.
Faucet: Standard chrome, low-rise.
Lighting: Lightbox with inset fluorescent lights.
KitchenCRATE Add-ons
In addition to the base kitchenCRATE elements, this homeowner is adding LED can lights.
The kitchenCRATE Project Scope
The kitchenCRATE team began the transformation on Thursday, October 24th, 2013. On day 1 the kitchenCRATE team set the kitchenCRATE, installed plastic walls for dust/fume protection, protected the flooring, removed and set-aside the existing appliances, demolished the countertops and backsplash, repaired the counter sub-top, removed the doors and drawers for off-site painting, templated for the new granite tops and prepared the remaining cabinet boxes for prime and paint. During the following 8 days (the lighting modification is adding an extra day to this project), the kitchenCRATE crew will:
Refinish the cabinets, doors, and drawers in Kelly-Moore Wise Owl in semi-gloss finish using a top-of-the-line Kelly-Moore Dura-Poxy paint.
Fabricate and install MSI Ivory Gold granite with a bullnose edge.
Supply and install Bedrosians Mediterranean Beige 3 x 6 travertine tiles with an accent strip of Bedrosians Kismet Happenstance mosaic tiles. This will all be grouted using Laticrete Almond grout.
Install a new double-bowl Kohler Executive Chef under-mount sink in Almond.
Install a new Kohler Simplice faucet with a vibrant stainless finish.
Remove original fluorescent light fixtures and replace with seven 5″ LED can lights.
Supply and install new Liberty Sophisticates Tapered Bow pulls in a satin nickel finish with matching cabinet hinges.
Supply and install new light switches and electrical outlets.
Install appliances.
The Before Pictures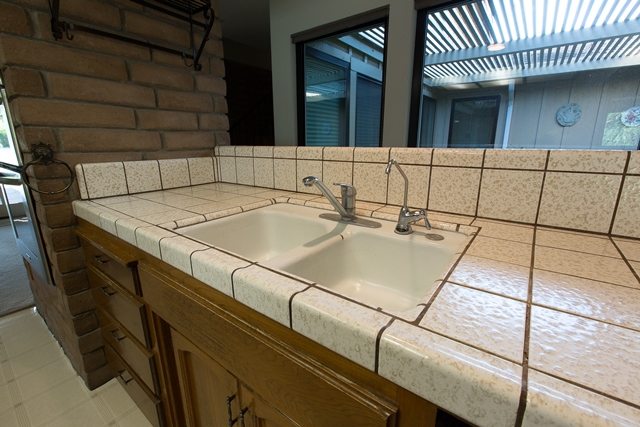 Want to learn how kitchenCRATE can help you?  Just click here to schedule your phone consultation using our scheduling system. Or feel free to call us direct during business hours at 888-995-7996!
Scott Monday (email) is Founder and CEO of Trinity Renovation, Inc., the parent company of kitchenCRATE.  Learn more about Scott at Google+ or on Facebook.