We're excited to bring the kitchenCRATE concept to Del Rio, a well-established, country-club community located just north of Modesto.
This 1971 beauty is in for a fantastic transformation, it's first updated since the cabinets were refaced in the 1990s.
Why the Homeowner Chose Us for Their Modesto Kitchen Remodel
Initially, we weren't sure if kitchenCRATE was the right fit for this project, and neither was the customer.  The homeowner just wasn't quite sure if the cabinets were "salvageable."
So after a brief phone consultation, and after seeing the kitchen and evaluating it's condition, we were confident the kitchenCRATE refinishing process could return these yellowed cabinets to their former glory.  The homeowner was pleased to avoid the high cost of new cabinets, so in just a few short weeks we were ready to commence work!
The Current Kitchen Specifications
Countertop and Backsplash: White 6″ square tile with tan grout.
Cabinet Finish: Yellowed cabinets in need of significant refinishing.
Cabinet Hardware: None
Sink: White cast-iron, original to the kitchen.
Faucet: Standard chrome, low-rise.
Lighting: Fluorescent fixture with acrylic lens.
KitchenCRATE Add-Ons
In addition to the base kitchenBOX elements, this homeowner is adding LED can lights and LED undercabinet lighting.
The kitchenCRATE Project Scope
The kitchenCRATE team began the transformation on Tuesday, September 17th, 2013. On day 1 the kitchenCRATE team set the kitchenCRATE, installed plastic walls for dust/fume protection, protected the flooring, removed and set-aside the existing appliances, demolished the countertops and backsplash, repaired the counter sub-top, removed the doors and drawers for off-site painting, templated for the new quartz tops and prepared the remaining cabinet boxes for prime and paint. During the following 7 days (the lighting modification is adding an extra day to this project), the kitchenCRATE crew will:
Refinish the cabinets, doors and drawers in Kelly-Moore Snip of Tannin in semi-gloss finish using a top-of-the line Kelly-Moore Dura-Poxy paint.
Fabricate and install MSI Mojave Brown quartz countertops with a mitered edge.
Supply and install Daltile Matte Almond 3 x 6 tiles with an accent strip of Bedrosians Eclipse Allure glass mosaic tiles. This will all be grouted using Laticrete Almond grout.
Install a new double-bowl Kohler Clarity under-mount sink in Sandbar.
Install a new Kohler Simplice faucet with a vibrant stainless finish.
Remove original fluorescent light fixtures and replace with 5″ LED can lights.
Supply and install new Liberty 3″ stainless steel pulls with matching cabinet hinges.
Supply and install new light switches and electrical outlets.
Install new appliances.
The Before Photos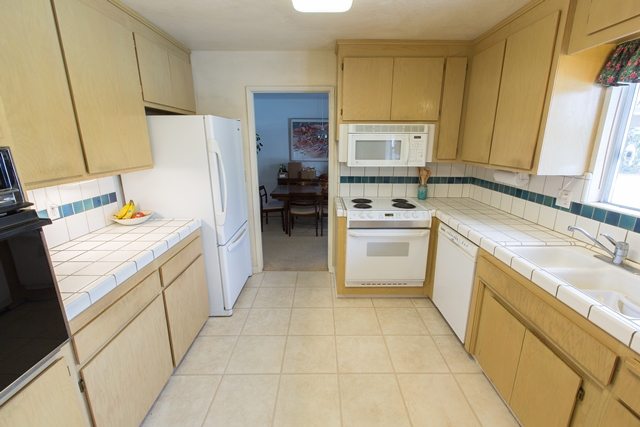 Want to learn how kitchenCRATE can help you with kitchen remodeling?  Feel free to call us direct during business hours at 888-995-7996!