This kitchen remodel in Turlock is one of our early favorites for 2018! We transformed a traditional, track home kitchen into a truly custom space. In the before and after pictures, you'll notice we eliminated the peninsula (say hello to an open kitchen concept!) and extended the cabinetry on the sink wall to include a bank of drawers and a trash pull out (who doesn't love to hide their trash can!?). We also upgraded the style of the kitchen by installing new shaker door and drawer faces with a custom outside edge — it's the little details the matter! The new neutral tones play wonderfully with the new flooring and the rest of the home. In fact, the kitchen wasn't the only space that we remodeled, we also transformed this customer's hall and master bathrooms!
Take a look at these before & after pictures, and let us know what you think!

But don't just take our word on how well this job turned out.  Look below for the project specifications and extensive before and after pictures!
Project Complete Pictures
(Click each image to enjoy a larger view.)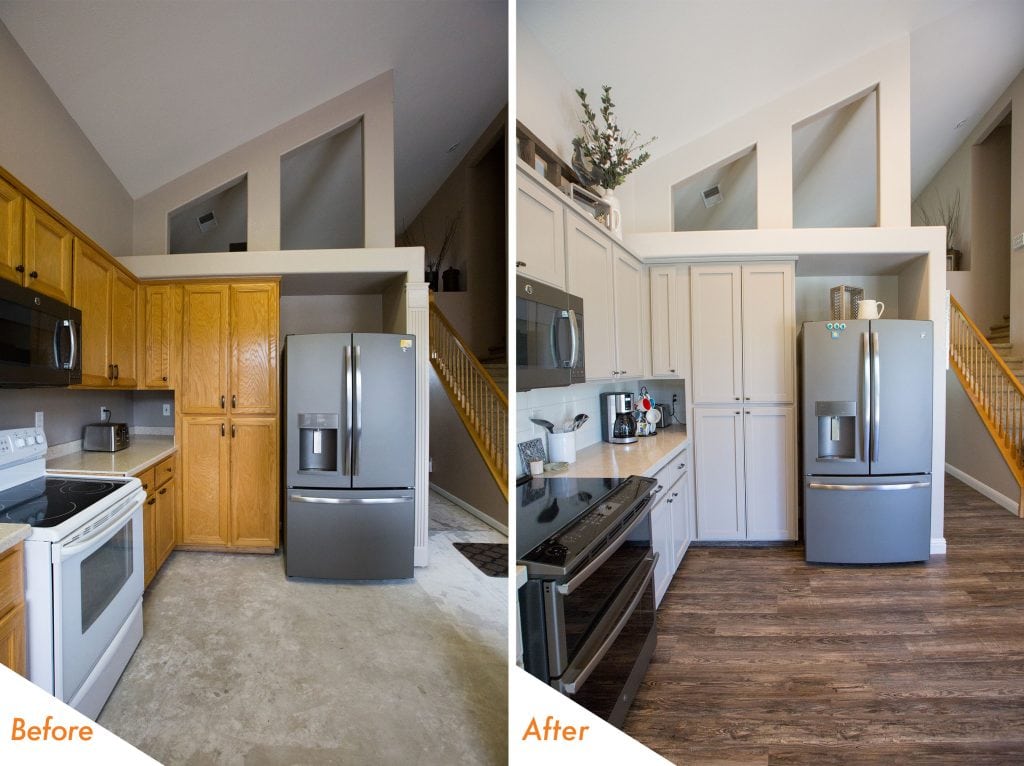 Technical Details
Are you next?
Perhaps this kitchen at Destiny Drive in Turlock reminds you of your home. Perhaps you like the layout of your kitchen and the cabinets are in good condition, but you are ready for a completely new look and feel. KitchenCRATE can make this happen in just a few days.
Just click here to schedule your phone consultation using our online scheduling system. Or feel free to call us direct during business hours at 888-995-7996!
Scott Monday is the founder and CEO of kitchenCRATE and bathCRATE. Follow him on Facebook or Linked-In.
Want to see more project profiles just like this? Want the latest kitchenCRATE projects, news and discounts delivered directly to your inbox? Simply click the button below!