Your master bathroom ought to be a retreat, the kind of space you can escape to at the end of a long day and enjoy a little rest and relaxation. All too often, however, an outdated or hard-to-navigate bathroom will make relaxing next to impossible. So why not bring your space into the 21st century by remodeling it? Here are three remodel ideas to help you embrace modern design in your master bathroom:
1.    Embrace a Neutral Color Palette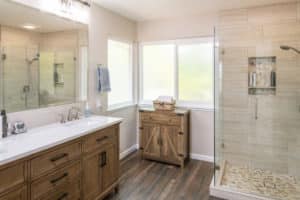 When it comes to modern bathroom design, subdued neutral colors are key. Whites, soft grays, and an occasional touch of charcoal or ebony will give your bathing space a pristinely serene look and feel. Pair these colors with cool-toned marble, gleaming white tile, bright chrome hardware, and clear glass panels to create an unquestionably luxurious space. And if you want to add a pop of color to your room? Consider choosing soft accessories—like towels and bathmats—or small accessories—like soap dishes and toothbrush holders—that you can easily swap out when you want to give your room a quick update.
But perhaps you were looking for master bathroom remodel ideas that would give your space a warmer feel? There's no need to write off neutral colors entirely. Instead, swap your whites and grays for creams, soft tans, and the occasional touch of deep reddish-brown. While subtle, this color palette will give your master bath an anchored, earthy look. It also lends itself to accessorizing with wood, or porcelain tile designed to mimic wood. You can integrate more colorful soft accessories in these rooms as well, though you'll probably want to opt for muted tones.
2.    Create an Open Design
If you're like most homeowners, you probably already know about the benefits of open floorplans. Not only do they make a space brighter, but they usually make it feel more spacious as well. Modern bathroom design takes this well-known principle and applies it to the bathing space in order to promote a luxurious look and feel.
Most master bathrooms have enough square footage to feel airy and expansive, but traditional design trends have cluttered things up with solid shower walls, ornate tubs, and heavy vanities. So when you come up with ideas for your master bathroom remodel, consider ditching these elements for uncluttered bathroom fixtures with cleaner lines. A low- or no-threshold shower with clear glass barriers will expand the visible square footage of your room, while a floating vanity will keep things from looking cluttered.
3.    Play Around With Natural Light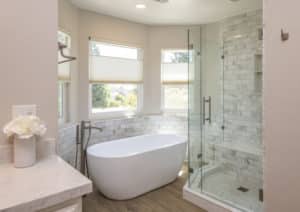 In many states—California included—having windows in a master bathroom is necessary for home to be up to code. But many homeowners are more concerned with closing these features off to promote privacy, instead of using them to cultivate tranquility. Most modern master bathroom remodel ideas take a different approach, playing up the natural light afforded by windows in order to make a space feel larger, or accentuate the gleaming glass and polished chrome that have become hallmarks of modern bathroom design.
Of course, that doesn't mean that you need to sacrifice your privacy completely. Frosted window film can close you off from prying eyes while still allowing you to enjoy diffused natural light, while certain window treatments—like discrete roller shades or cellular shades—can offer more robust privacy when necessary.
If you'd like more ideas for turning your master bathroom into a modern retreat, California's premier bathroom remodeler is ready to help. Contact kitchen & bath CRATE today to learn more about the sleek and stylish master bathrooms we create.