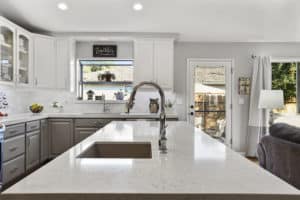 Do you find yourself daydreaming about bringing your kitchen into the 21st century with a remodeling project? Have you spent hours scouring the internet for pictures of stylish kitchen spaces you could recreate in your home? If you answered yes to either of these questions, then odds are that you've also found yourself wondering which updates would make the most impact on your room. After all, you want your kitchen remodel to breathe fresh life into this often-used space, so it makes sense to invest your money in upgrades that have the potential to really transform your kitchen.
For more than a decade, we've served as the kitchen remodeler of choice for California homeowners. While creating stunning kitchens for our neighbors, we've learned which features truly make these spaces pop. So, when you're remodeling your kitchen, make sure to pay special attention to these four options:
1.     The Cabinets
Poke your head into your kitchen and the first thing you'll probably notice is the cabinetry—it's one of the most visible elements of your room after all. So it should come as no surprise that updating your cabinets during a kitchen remodel should be your first priority.
Many homeowners opt to breathe fresh life into their kitchen cabinets by replacing them altogether. While this usually results in a more intensive kitchen remodeling project, it's easy to see the benefits of this approach. Not only will custom cabinetry perfectly suit a particular style, but it also generally comes with more storage space and features like pull-out shelving that make it easy to access your favorite pots and pans.
Of course, a full cabinet replacement may not be something you can take on at the moment. But that doesn't mean that you have to resign yourself to ugly or outdated cabinetry. Instead, partner with a kitchen remodeler that can refinish your existing cabinets. After being repainted or re-stained and getting new drawer and door faces, your cabinets will look brand new.
2.     The Countertops
If the cabinetry is the most visible element of your kitchen, the countertops have the potential to be the most dramatic. That's because many countertops showcase the natural beauty of stone, which can feature intricate marbling or glimmering mineral flecks.
During a kitchen remodel, most homeowners will opt for luxurious marble, vibrant granite, earthy soapstone, or customizable quartz. An experienced kitchen remodeler will help you pick the best option for your home, comparing factors like appearance, upkeep, and price point.
3.     The Backsplash
Your backsplash may play a pivotal role in protecting your walls from water damage and grease stains, but we'd be lying if we claimed that's all a backsplash is good for. In fact, a backsplash has the potential to be one of the most unique and vibrant elements of your kitchen. When done right, it can set your space apart.
Before remodeling your kitchen, take a moment to consider the stylistic role of your backsplash. Do you want to keep it subtle, with stylish monochrome tile that serves as a backdrop to stylish kitchen cabinetry? Or do you want a backsplash that adds personality to your kitchen with vibrant colors or intricate patterning?
4.     The Sink
Of all the elements of your kitchen, few see as much activity as your sink. That's why you should probably put a little extra effort into updating this feature during a kitchen remodel. After all, you want a sink that combines form and function, with an appearance that perfectly complements your décor and a profile that offers plenty of room to wash dishes, rinse vegetables, and handle whatever else you throw at it.
Most kitchen sinks come in three profiles: top mount, undermount, and farmhouse. While top mount sinks are easy to install—due to the fact that their rim rests atop your counters—they usually leave something to be desired when it comes to their appearance and upkeep. Undermount sinks, on the other hand, are installed directly under the counter for a more fluid appearance. And for those looking to embrace a more old-world aesthetic, farmhouse sinks—which feature a visible outside edge—will give a kitchen unquestionable charm.
Of course, the best way to ensure your remodel results in the kitchen of your dreams is to partner with a contractor you can trust. If you live in California, that contractor is kitchen & bath CRATE. Learn more about the projects we've completed here!