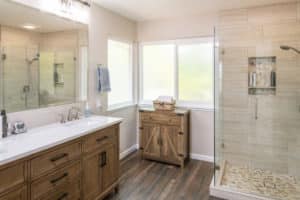 For many homeowners, a master bathroom remodel serves as the perfect opportunity to transform a dull or utilitarian space into a spa-like oasis. However, if you're embarking on one of these projects for the first time, it's easy to get overwhelmed. After all, a quick internet search will provide you with no shortage of listicles with headlines like "11 Things You Need to Know Before Remodeling Your Bathroom" and "20 Essential Tips for a Master Bath Remodel."
If the prospect of a master bath remodel threatens to make you spiral, don't fret just yet! We believe that remodeling your bathroom into a retreat shouldn't make you run for the hills. That's why we've boiled down our years of remodeling experience into just three things you should do to ensure your master bathroom remodel goes smoothly from start to finish:
1.     Find the Right Contractor
A master bathroom remodel only goes well when handled properly. That's why—and we cannot emphasize this enough—you should put a bit of time into finding the right contractor to take on your project. When researching contractors in your area, try to find a team that specializes in whole-bathroom remodels. This ensures they have the skills necessary to handle your entire project. If you can find a firm that works with their own interior designers, that's even better—you won't need to spend your time coordinating between the different groups working on your master bath remodel.
Of course, knowing your contractor has the skills necessary for remodeling your bathroom is one thing, but trusting them to do a good job is another. That's why you want to look at photos of their past work and customer reviews before committing. Sites like Google, Houzz, and Yelp! will often collect customer feedback, condensing it into an easy-to-understand star rating. However, actually reading the reviews will let you know what it was like working with a contractor during a master bathroom remodel and whether they can deliver on their promises. If your remodeler is willing to guarantee their workmanship or the timeline of the project, so much the better.
2.     Plan Things Out Ahead of Time
Sure, you can technically adjust the plan for your master bath remodel as you go. But unless you're the kind of person who enjoys drawn-out projects and surprise budget increases, we don't really recommend it. Instead, sit down with your contractor ahead of time to create a thorough game plan for remodeling your bathroom. This becomes much easier when working with a design-build remodeler, since they'll be able to smoothly coordinate the entire process.
Make sure you and your bathroom designer choose your materials, colors, and fixtures before demolition even begins. Want to update your shower? Choose the tile for the surrounds when determining the layout so your contractor can calculate how much is needed for your project. Want more storage? Pick out your custom cabinetry early so your remodeler can make sure everything will fit in your room. Not only will this keep you from experiencing late-project headaches and delays, but it also helps you get a much better idea of the bottom line for your master bathroom remodel.
3.     Don't Forget the Little Details
If you're remodeling your master bathroom, you've likely put a lot of thought into the big-ticket upgrades: the walk-in shower, the soaking tub, the stylish sinks. But oftentimes, it's the little things that make a bathroom truly special. Consider springing for:
Heated flooring, so you can step out of your warm shower in the morning without tiptoeing across an icy floor
Updated lighting, so you can actually see what you're doing when you get ready each day
Custom storage, like a cubby for hair styling tools or a cabinet for your extensive jewelry collection
Of course, if you really want to make your master bathroom remodel a success, there's no better place to turn than California's own kitchen & bath CRATE. Contact us today to learn about the stylish bathrooms we create using our signature turnkey process.