So excited to reveal the first of two blog posts for our recently-completed gargantuan kitchenCRATE Custom and bathCRATE project in Modesto, CA. The total scope for this project included complete renovation of a kitchen/family room, a complete master bathroom renovation and flooring/painting/windows/etc. in an additional 6 rooms!
In this post we highlight a dramatic master bathroom renovation, including removal of a wall dividing the shower room from the vanity, a gorgeous new stain-grade vanity with a marble top and a clean, elegant shower with a zero-threshold entry.
Scroll down to hear about the customer's experience and see all the stunning before and afters!
Homeowner Testimonial:
The team members—from Jeffrey and Lindsay in planning, Scott, Mark and crew on the worksite–are professional men and women to work with and are focused on customer service. Beyond that, the team is informed about the project, not just their own task. They are knowledgeable in their trade and careful and exacting in the execution. The use of technology to schedule and keep everyone informed is impressive.
And timeliness? YES!
We would absolutely recommend kitchen & bath CRATE for your project!
Project Complete Pictures
(Click each image to enjoy a larger view.)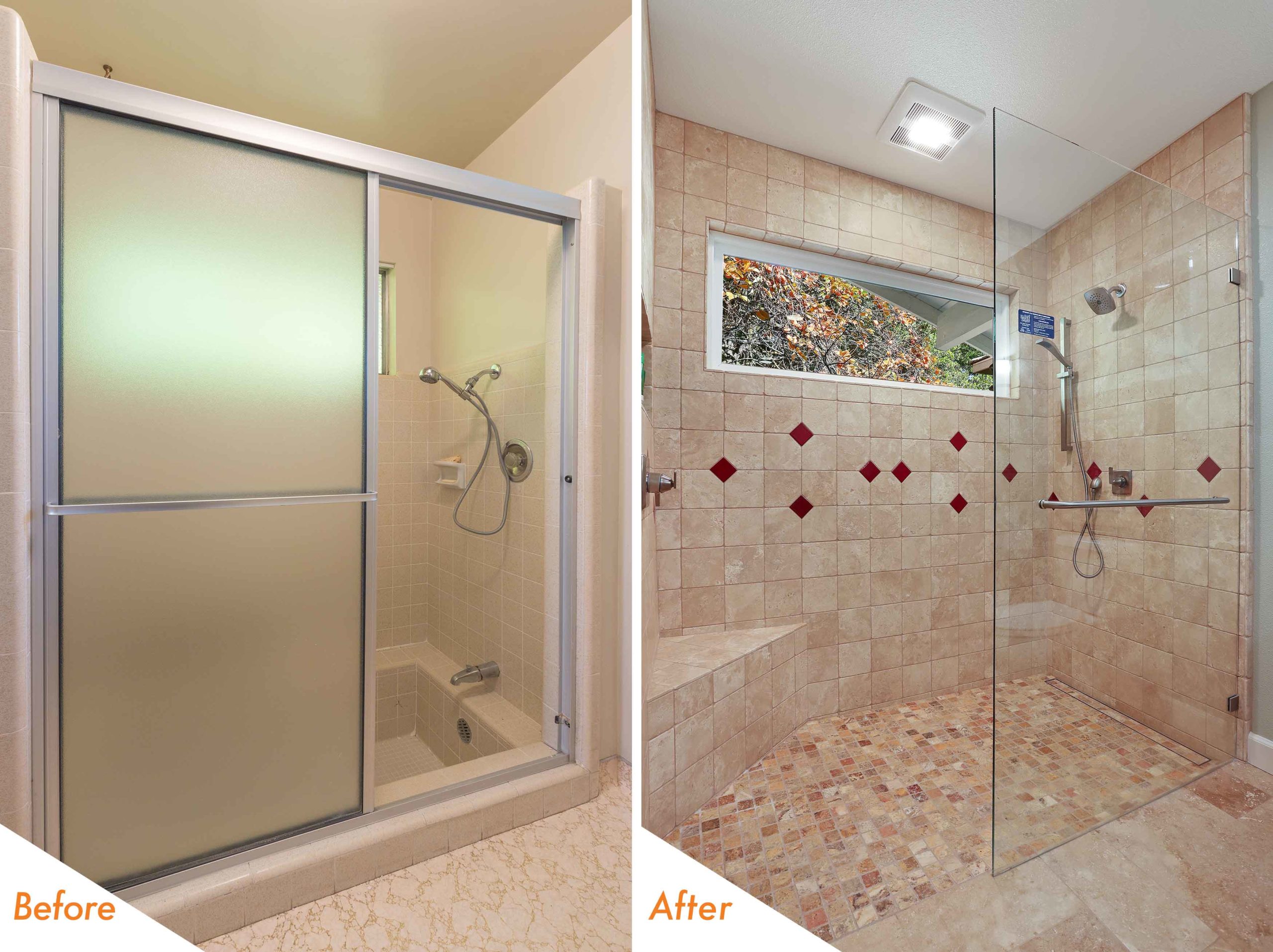 Technical Details
Are you next?
Does this bathroom at Barringham Lane remind you of your home? Perhaps you like the layout of your bathroom and the cabinets are in good condition, but you are ready for a new modern look and feel. BathCRATE can make this happen in just a few days.
Just click here to schedule your phone consultation using our online scheduling system. Or feel free to call us direct during business hours at 888-995-7996!
Scott Monday is the founder and CEO of kitchenCRATE and bathCRATE. Follow him on Facebook or Linked-In.
Want to see more project profiles just like this? Want the latest kitchenCRATE projects, news and discounts delivered directly to your inbox? Sign Up For Our Newsletter Below!