This master bathroom transformation in Oakdale is already one of our favorites for 2018! Unfortunately, we're only able to photograph a handful of our projects, and we weren't able to take before photos of this renovation; however, this remodel took a tired and out-dated track-home bathroom and transformed the space into a modern oasis. Right off the bat, you'll notice the dark 12″ x 24″ Bedrosian floor tiles that were intentionally selected to set a dark foundation for this bathroom and provide the perfect contrast for the lighter tones in the surrounding areas. The custom cabinets were built by Central Valley Millworks in Modesto, and the vanity was painted by our staff of painters with a lighter grey hue that complements the floor tile. Across from the vanity, the jewelry cabinets were painted a bright white to match the adjacent tub and shower surround. These are just a few of the simple design selections that set the tone for the overall aesthetic, but let's dive a little deeper into three of our favorite features of this project: 1) at the jewelry hutch, we installed a beautiful vertically-stacked accent tile composed of textured stone and glass, 2) the free-standing tub (Do we need to say anything else?!), and 3) the entire shower surround — from the beautiful 30″ x 30″ marble-simulated porcelain field tile to the accent tile in the shower, the shower is simply breath-taking.
Whew! As you can tell, we could go on and on describing all of the finishes in this bathroom, but don't take our word for it. See for yourself in the rest of after pictures below!
Project Complete Pictures
(Click each image to enjoy a larger view.)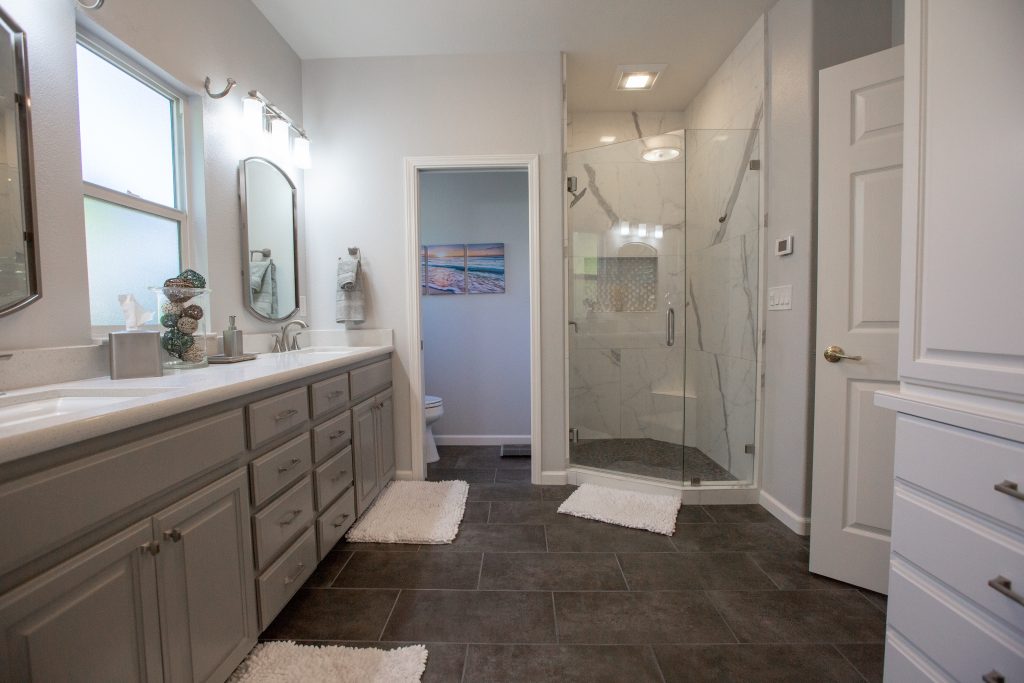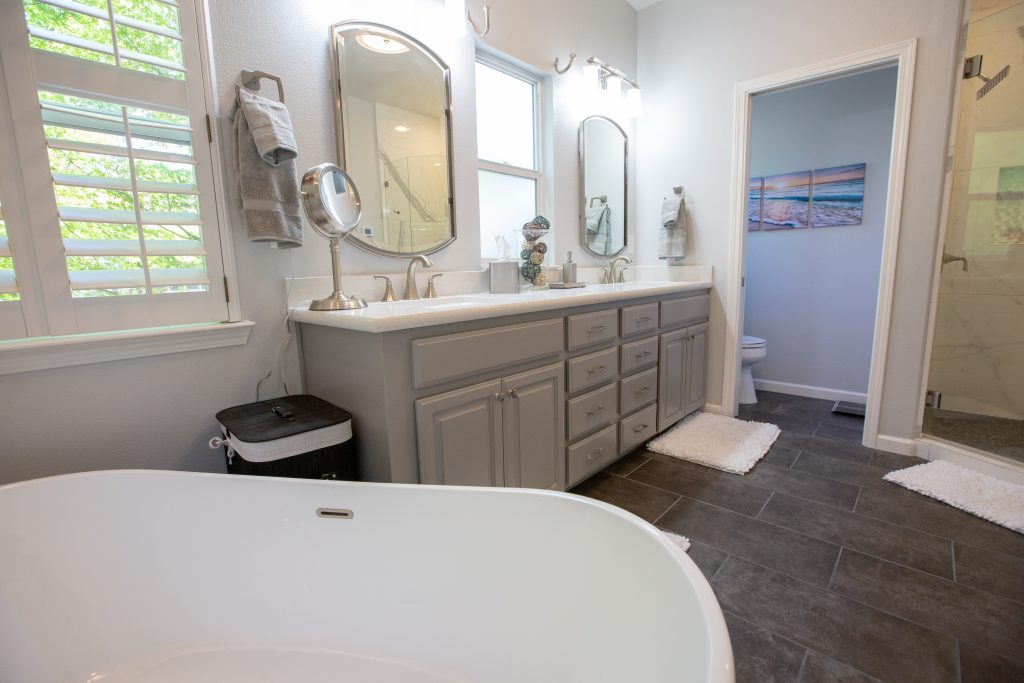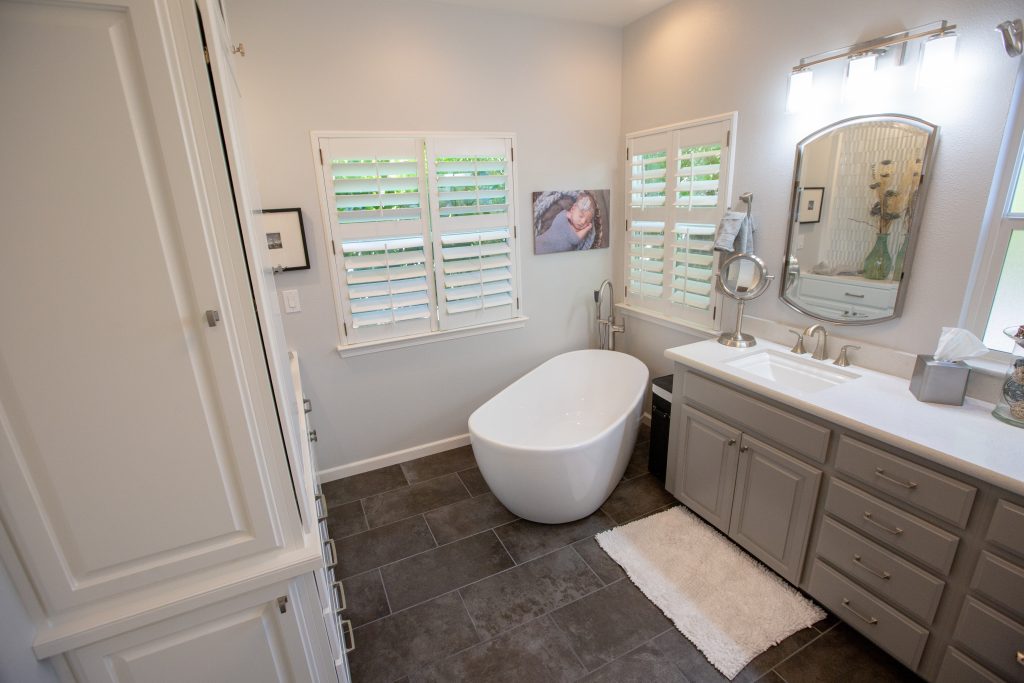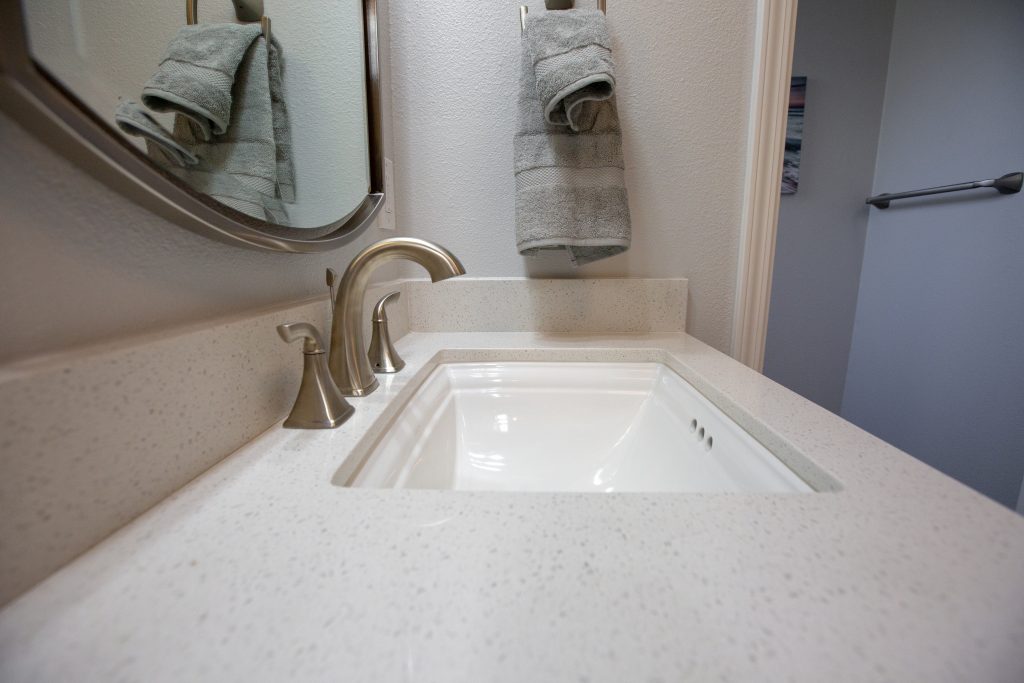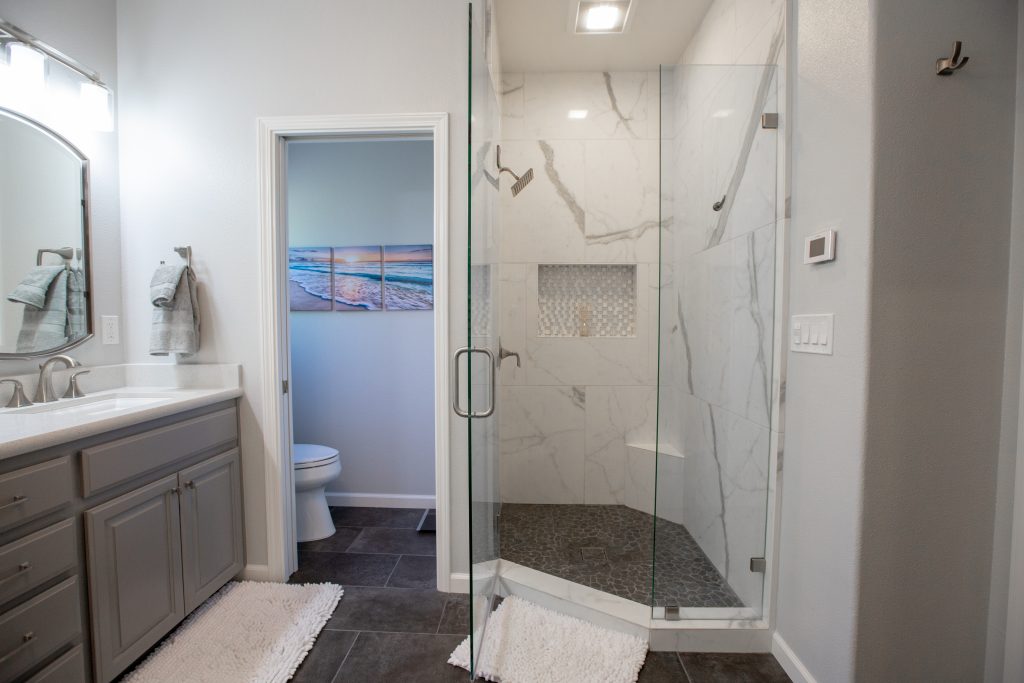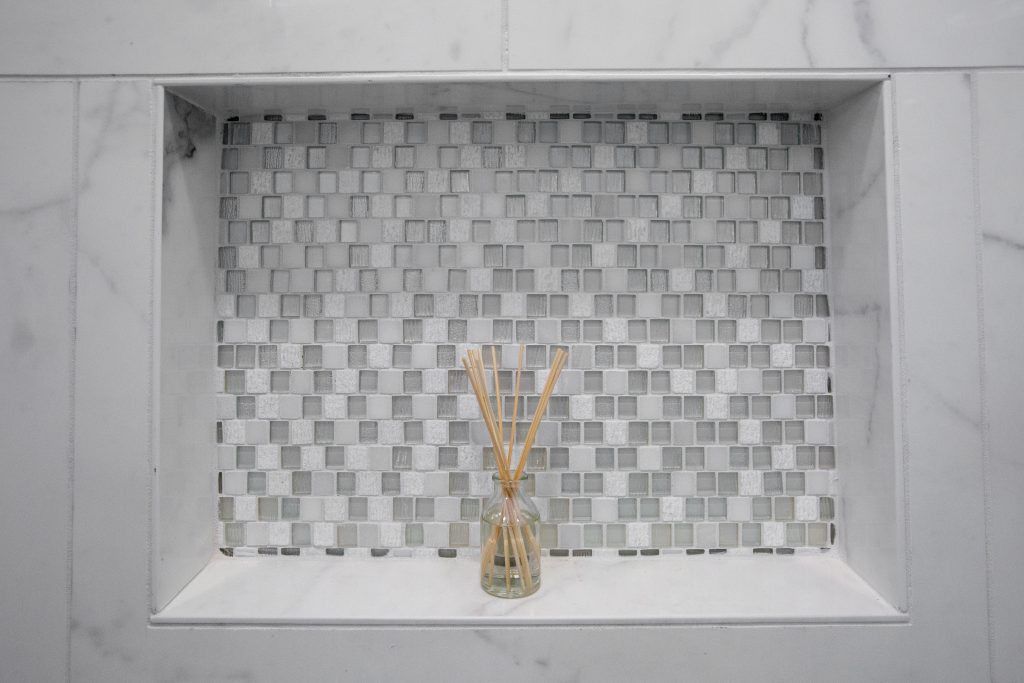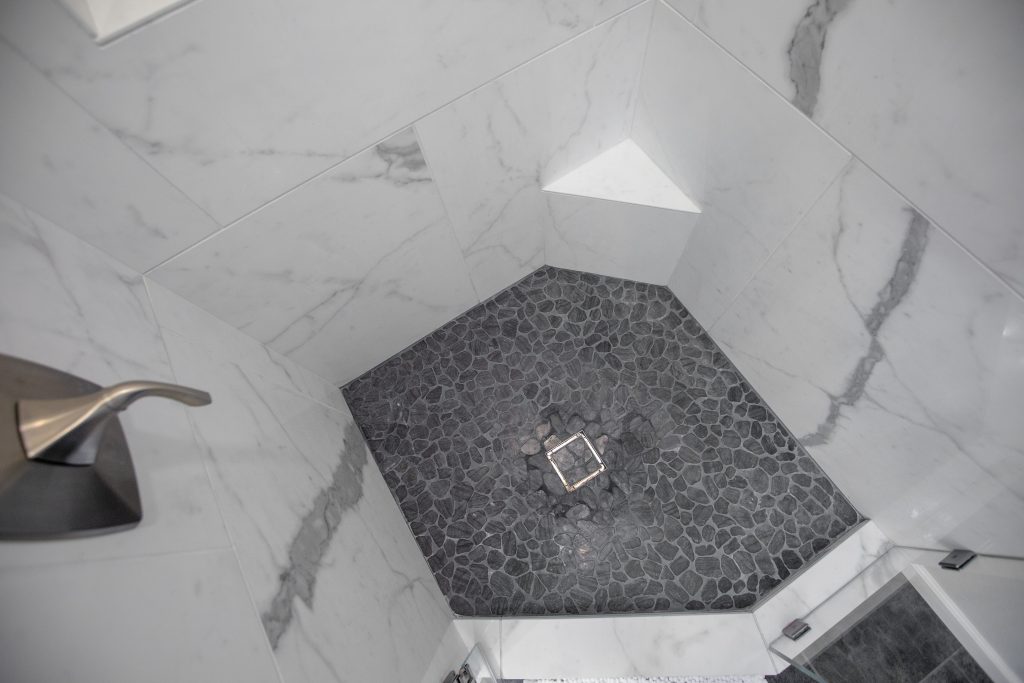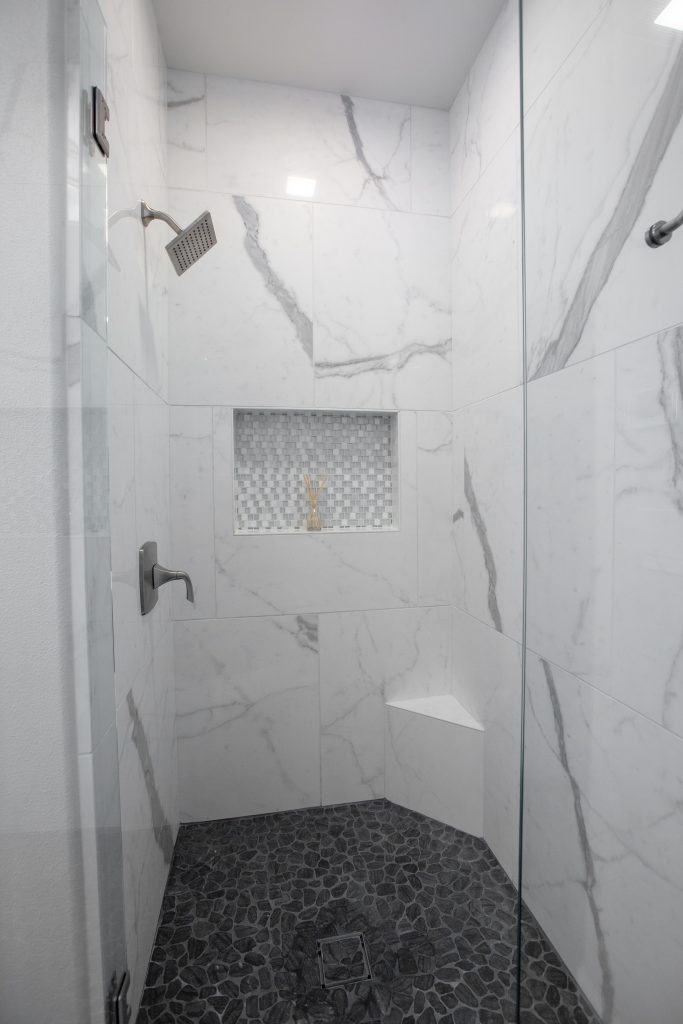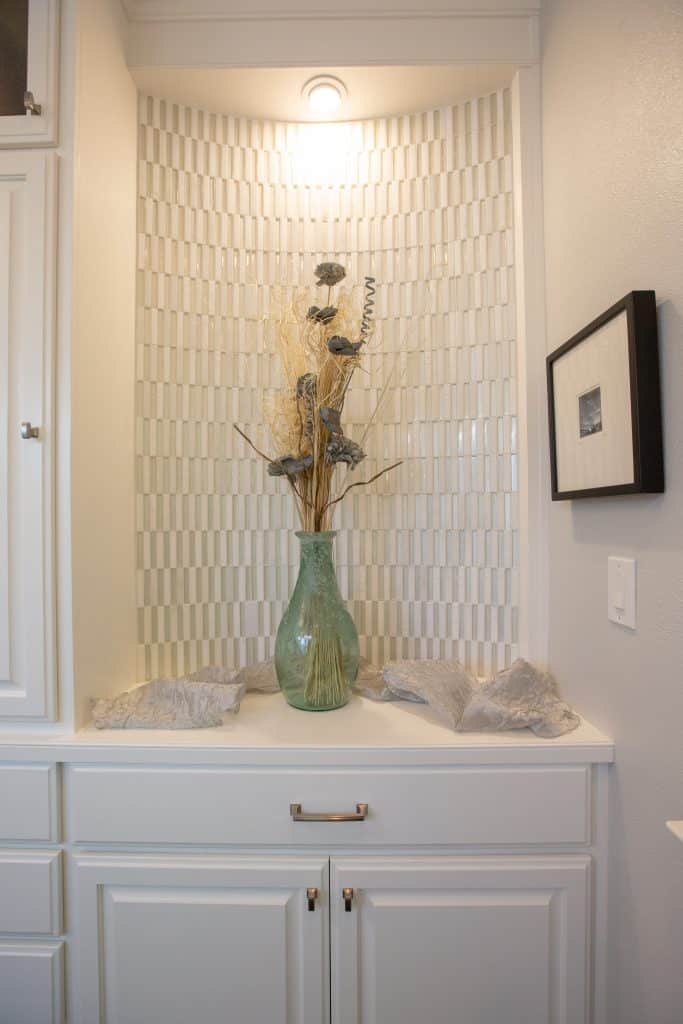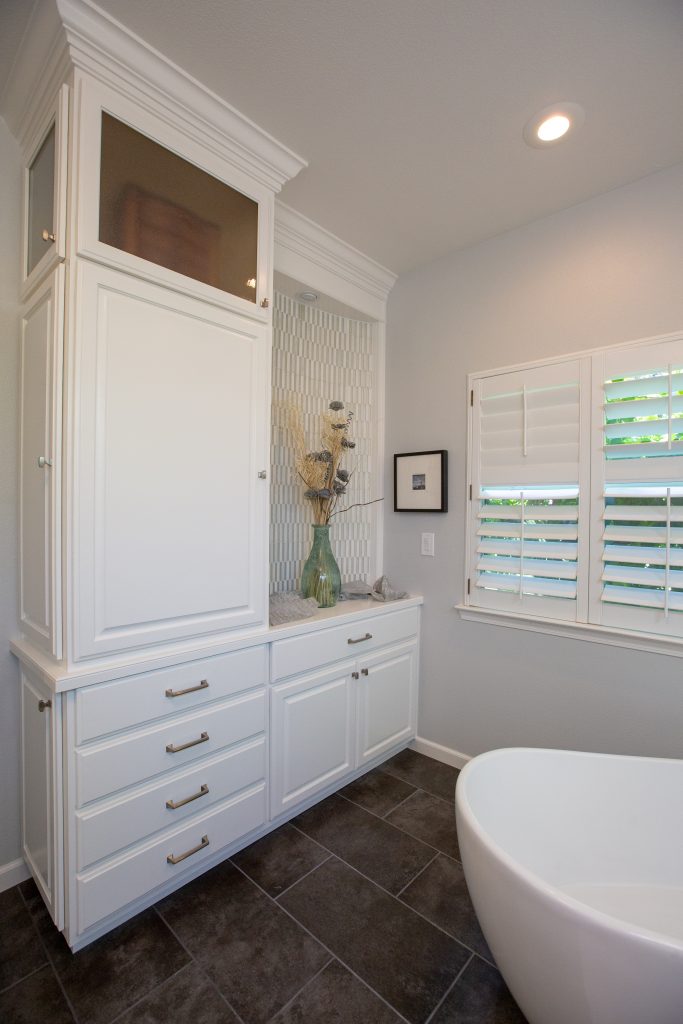 Technical Details
Are you next?
Perhaps this bathroom at Country Oak Court in Oakdale, CA reminds you of your master bathroom. Do you like the layout of your bathroom, but you are ready for a completely new look and feel? BathCRATE can make this happen in just a few days, contact us today to get started!
Just click here to schedule your phone consultation using our online scheduling system. Or feel free to call us direct during business hours at 888-995-7996!
Scott Monday is the founder and CEO of kitchenCRATE and bathCRATE. Follow him on Facebook or Linked-In.
Want to see more project profiles just like this? Want the latest kitchenCRATE projects, news and discounts delivered directly to your inbox? Simply click the button below!