kC Refinish Woodland Drive | Cabinetry Refinishing Completed in One Week!
In this video, homeowner Julia shares her story about her cabinet refinishing project and her experience working with our CRATE team.
kitchen & bath CRATE Reviews and Testimonials
We take pride in providing the best kitchen and bathroom renovations possible, that's why we made great customer service essential to our remodeling process. Don't just take our word for it, see for yourself! Check out our reviews and testimonials to hear about our customers' experiences.
bC Myrtle Beach Drive | A Custom Bathroom Remodel In Brentwood
Bob shares his thoughts on the CRATE process and his favorite part of his bathroom renovation.
We loved our KitchenCRATE experience! My favorite part was the design consultation, picking colors, tile and counter tops and online shopping for pendant lights! My favorite part about working with the Team is that everyone was professional and committed to good communication. Texts and emails were frequently exchanged and everyone was thorough and helpful.
Something that surprised me was the amount of coordination that occurred to get the team in-and-out on time and supplemented with contractors etc. – the time efficiency was amazing. In addition, I was surprised at the level of assistance and customer service that every single kitchenCRATE employee exhibited.
The workers were very helpful, cheerful, timely, considerate and intent on doing a good job. They kept our house clean and protected and we are very happy with our remodeled bathrooms.
I would say one of the best things kitchen and bath CRATE is how organized the company and employees are with everything. The job ran so smoothly, and the employees were friendly, pleasant, professional that I felt comfortable with having them in my home. The first thing I say when showing someone my new kitchen is that you have the best price/shortest timeframe for completing the work/quality products from paint, primer, hardware, etc. To me using you is a "no-brainer".
I really enjoyed the process of bathCRATE; I felt it was very streamlined and everyday they were working hard on my project. You have found the perfect formula to make a construction project work. I have had contractors work on project for me in the past and they never have kept me so informed. I love my new bathroom!
kC Moet Way | Modesto Kitchen Remodel
Mike and Barb share their kitchenCRATE experience including meeting with their project manager, collaborating in the design process, and what it was like living in the home during construction. For more information on this project check out our blog!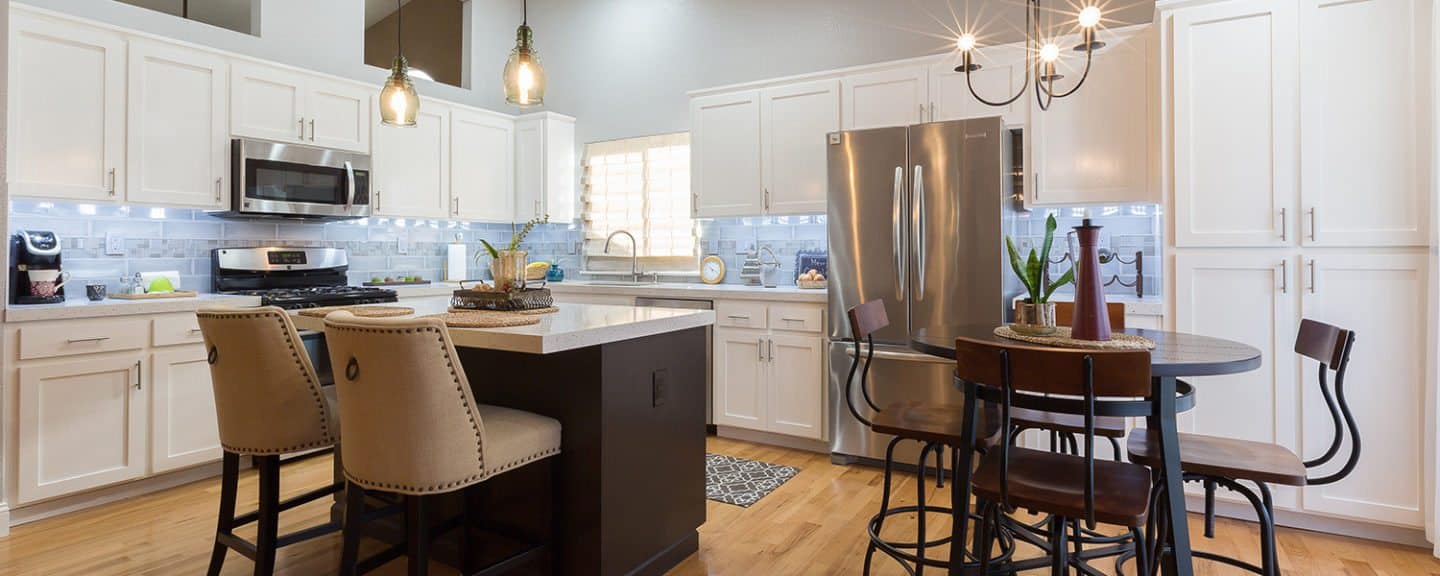 Watch a timelapse of kitchenCRATE Plemini Court from start to finish on our Process page. By simply, clicking here:
kitchenCRATE Plemini Court in Salida, CA
My favorite part about the kitchenCRATE team was their timeliness. The production schedule worked as planned with no delays. I was surprised and relieved everything was completed in under 2 weeks. I didn't realize how difficult it would be using my hall bath as a kitchen!
kC Franks Court | Kitchen Renovation in Turlock
Rebecca sits down with our CRATE team member Jeffrey and talks about her previous pain points of her past kitchen along with her favorite parts of her newly remodeled country themed kitchen.
It is with pleasure that I give you my feedback concerning our recent kitchen renovation. By far, one of my most impressive part of the project was having someone to call directly concerning any issues. Any time I had any questions or concerns, I could always get in touch with one of the team: Jeffrey and Scott in particular (both of whom were a pleasure to know and work with). All of the workers that came to our house were very professional, friendly, and helpful as well. The work was performed exactly according to the projected dates for each segment of the project. But of course, the best part of all is the beautiful new kitchen we now enjoy.  The workmanship is excellent, and the overall project was completed to our full satisfaction!
I can't thank the entire team enough for everything you did in renovating our beautiful new kitchen!  I will definitely recommend you to any new or potential customers in the future. Thank you all again for our beautiful new kitchen!

kitchenCRATE Sundance, Modesto
I have a young family, and of all of my favorite things about your process, your commitment to get the job started and completed on time is my #1.
Being without a kitchen is such an inconvenience to any family and your team ensured that their work was completed in the least amount of time possible with the highest level of quality. What brought me the most comfort was seeing your project plan on a gantt chart which let me know what to expect every day of the project.
Also, Willy Stevens was a key part to how beautiful my kitchen turned out. When I started second guessing one of my design choices he skillfully and patiently helped me select an even better choice that ended up saving me quite a bit of money plus looks amazing in my new space.
I was surprised when there was a design element your team had originally thought they couldn't do, but then Jake was able to find it and make it happen and surprised us with it when they were delivered. Love a project with delighters.
This was our first major remodel for our home. I had heard about so many bad experiences from others, that I was a little apprehensive and kept myself on guard for anything that might go wrong. And when nothing did, I considered myself spoiled. I now expect this level of service from any other contractors.
Once the money tree grows back a little, and we are ready to redo our bathrooms, we will definitely be calling you once again. 
kitchen & bath CRATE Tapestry Way, Pleasanton
Our favorite part of the kitchen crate process was how efficient and easy it was for our remodeling project to take place. The moment we made the first inquiry we were greeted with sincerity and honesty which stood out in everything they did. Everything was up front, no hidden cost and every detail was listed. This allowed us to understand the total cost of our project. In addition, we were provided with a printed out timeline detailing what would happen for each day of our project. Having this timeline allowed us to know what to expect daily – another example of how efficient this company runs. In addition, we really appreciated that kitchenCrate provided a wonderful interior designer, Lindsey.  Her expertise was invaluable in bringing together all the patterns, colors and textures that represented our vision.  This made our project so much nicer.
Our favorite part of the kitchenCRATE team was how communicative and responsive the team was to all our needs. Our project manager answered and always followed up promptly with any inquiry. He and everybody on the kitchenCRATE team were friendly, caring and always professional.
Truly service with a smile and quality customer service.
Just about anybody we have spoken to who has ventured into remodeling always tells us how their projects are not completed on time or the contractors don't show up. This simply was not the case with our projects. We were pleasantly surprised when we came home to find our kitchenCRATE container delivered on the date given. Our reality began and we were excited to see our dream get started. From that moment on every day the kitchenCRATE team arrived exactly on schedule, never late, sometimes early. This timely manner contributed to them completing all 3 of our projects right on time! The speed at which they work to do their jobs was never a short cut. They are professionals and it showed in their workmanship. We even added in some extra requests on our projects and they never said, no it couldn't be done. Instead, they added in all our requests and completed the job on time! We couldn't be happier with all that was done. 
Our kitchen makes us smile everytime we look at it.  We love all the details that were done for us.  Our bathrooms are wonderful and we are so happy with the cabinets that were created in place of the out dated sunken tub. I will never miss that tub. Using our master bathroom makes us feel like we are in a retreat every day. One big thing that truly surprised us is that kitchenCRATE never asked for any down payment to do our projects. That's unheard of these days!  Exemplifying once again that they believe in providing quality work and making sure their customers are happy with their completed projects.
As a busy wife, mother and student who works full time my time is tight. Your team allowed our family to renovate our house with minimal management of the process. The turnaround time was also great because a house with two small children and no kitchen is a challenge. This renovation has really made our house some much more comfortable and enjoyable for everyone. 
There were no corners cut and the quality of work was great.  
I LOVE what my kitchen looks like now!
It is an entirely different, modern look. From the time I requested a quote to looking over the finished project, you and your workers have been great. My favorite part of the process was the design meeting. I liked working with everyone to get the look I wanted. Granted, I researched a lot and had an idea of what I wanted, but everyone was great to work with and we came up with colors and patterns that look wonderful. When the actual work was starting – the demolition, etc. – I was pleased that you were true to your word. The crew cleaned up everyday and left my house relatively the same way as when they started. The work crew explained what happened that day and what would happen the next day over the course of the project. I was always kept informed of the progress.
I recently retired and had kitchenCRATE update the small kitchen in my townhouse.  It was on my "bucket list" and I'm so happy with the outcome! The whole process from start to finish was done professionally and stress free. The team was great too. They were very courteous, arriving each day at the scheduled time. They kept me informed on the work progress and completed my kitchen when they said they would. Who does that anymore? Also, I was pleasantly surprised at the attention to detail and most impressed with the craftsmanship. Nothing more to add other then I love my new kitchen and keep up the good work!
Our favorite part of the CRATE process was the timely manner that everything was completed. We had a schedule about what was going to be done and the schedule was followed. If there was any problems, I was informed immediately.
Our favorite part about the team was the ease of mind that I knew who was in our home. We felt comfortable leaving the house and having the crew be in the home by themselves. That was a huge relief off our shoulders. We were happy that most of the workers and the work that was done was in-house. If it was subcontracted we were informed which days that would be. It gave us the option of staying in the house while they worked.
I'll be honest, kitchenCRATE is not exactly the cheapest option for a home renovation, but the quality of work and the peace of mind that I knew who was in my home was well worth the money. The team was efficient and knowledgeable. Being able to say that my kitchen was done in two weeks was wonderful.
Question: What was your favorite part of the CRATE process?
Answer: The professionalism exhibited by all the workers that came in our home made my wife feel comfortable. We greatly appreciated having exact dates throughout the process which made the process easier. We hired other workers for different jobs would give us vague dates, making it stressful to plan.
Question: What was your favorite part about the CRATE team?
Aanswer: I loved that I didn't have to piece the whole project together. I thought I could but I just didn't have the energy to do it. It was also nice to have a kit sent to our house so I didn't have to leave the house to look at cabinet hardware.
Our favorite part of the Crate process is everything is organized from the time of the phone consultation, the on-site consultation (with Willy Stevens),  down to the trip to the tile company in Arizona Tile in Livermore with Willy and designer Casey (so happy with the countertop and tile choices!), the job walk through with Jake, and of course, the actual remodeling itself. 
Our favorite part of the crate staff is that not only is everyone is very courteous and professional, they also feel like they're family. They're punctual, they start on time and leave on time. They also clean up after they're done. 
I'm surprised that they did stick to the schedule and that they were indeed done with both the kitchen and master bathroom remodeling in just 3 weeks just like they said.
kitchenCRATE Custom Montana Street | An Open Concept Kitchen Remodel in Ripon
Overall, I think the experience was stellar!
I thought to myself there is no possible way I could survive a remodel during the most stressful time of year work-wise. After our first meeting with you, Jeffrey, and Lindsay, I think it spoke volumes as to how seamless of a process you have developed in marrying the nitty-gritty of construction to streamline design plans and specific controlled timelines that reliably predicted what to expect. We proceeded, and trust me, I would have never committed to a project of this scope had it been with any other company/contractor/crew. The upfront work which nicely plotted the plans and methods of communication created the amount of trust and faith I needed to feel secure. 
I think the design consultation meetings in our home were hugely beneficial. Having a designer on staff is quite brilliant. The benefits are two fold, for the customer as well as for your company. I cannot speak as to how other customers are, but for us this was a must. We did not know what to do with our sad, defunct kitchen. I think the only request we had was to use Quartz. I personally am terrible with colors, imagining layouts, or visualizing how certain design elements may or may not fit in. Having Lindsay present options and give her professional opinion as well as Jeffrey use his visualizing computer program to draw a specific representation of our space were instrumental in creating our new kitchen. We would have been running in circles without them. 
The hallmark of your company and our experience was your ability to stay on schedule. I know this is your cornerstone, and it is something to definitely to celebrate.  I think it is great that to add to the backbone of your scheduling is the fact that you shop locally (specifically with your cabinetry) which further allows you to keep the project on track and adds a layer of insurance.
As for the day to day experience, it was good. Of course, there isn't anything exactly "easy" per se when you lose access to two rooms (such as our case), and also our pathway through the house to the master bedroom.  But the crew was completely accommodating and very willing to help out when one of us was present and needed access to specific areas of the house.
We love our new kitchen and dining area. It really came together beautifully and we are thankful for your commitment and attention to detail. We also really appreciate your commitment to your product and in checking-up on a few snags. It is nice to have confidence in your builder, and know if something should go wrong we have a company that stands behind its work. 
Question: What was your favorite part of the CRATE process?
Answer: The planning phase was very complete so I knew what I was getting – no surprises, either with the end result or the cost.
Question: What was your favorite part about the CRATE team?
Answer: Everyone is super considerate.
Question: Was there anything about the process or project that surprised you, good or bad? If so, what was it?
Aanswer: No surprises. I'll save those for Christmas and birthdays, not projects. 
kitchenCRATE Canyon Crest, San Ramon
We are enjoying our new kitchen and can barely recognize it from the 1980s golden oak cabinet/tile & grout tiled counter kitchen we've lived with since 2004 in this house. It's a good thing that I took before and after pictures so that I can remind myself of what a dramatic change took place.
I enjoyed working with your team from planning through the demolition/remodeling part the project. Sadly, I wasn't home during week two when all the magic was happening with tile work, countertops, and appliance installation but my husband was kind enough to take photos to send to me at work. 
The design process was fun and exciting as your team tried to make my dream kitchen come to life plus take into account my husband's vision too. I felt like we were on a show on HGTV as we decided on countertops, the faucet, tiles and cabinet hardware. Willy was great at keeping us on budget.
I was nervous to come home to the finished kitchen to see how it would compare to the swatches and samples we chose (we selected our quartz countertop by looking at a picture online) but I love how classic and timeless our kitchen looks now and it seems even larger than before because of the cabinet color. We definitely don't miss the useless ledge separating the kitchen from the family room and now that the counter extends out further at one height – I have so much more space! 
The biggest surprise was how quickly the remodel took. It was also done with very little chaos to our household (although our cat liked checking out the kitchen every night after the workers had left). Your workers were also very polite and I felt comfortable in having them in our home. 
All in all we had a great experience and I would recommend kitchenCRATE to anyone who wants a quick and easy kitchen remodel. I've heard from other friends who have gone through expensive and lengthy remodels and I have to say our experience was great. I hope to have out bathrooms done by bathCRATE someday!
We loved that you kept us apprised of every step and how the process would unfold, not to mention that everything proceeded exactly as you said that it would. Your explanations about the process were so well done that we never even had to ask for any further information.
Our favorite part about the CRATE team was that every member was polite, courteous and friendly, and yet very professional with no wasted time or effort. They were efficient, quick to get started each day, left our home in great condition, and the end product that they created was everything we hoped it would be.
If we were surprised, it was by the teams efforts to be on time. We quickly learned that 11:00 am meant 11:00am, not 10:59 or 11:01 or that 7:30 am did not mean 7:29 or 7:31. Such effort to be exactly on time was indeed unusual and greatly appreciated. We were also surprised by the professional manner in which every member of your team went about their part of the project.
Believe me when I say we were happy with the process, the workers, the timeline, the professionalism of every one involved and that we couldn't be happier with the finished product.  We would be more than happy to recommend KitchenCRATE to anyone who is interested in having their cabinets refinished.    
kitchenCRATE Cobblestone Manor, Modesto
I have been very pleased with my kitchen renovation – I Love it! What first influenced me to choose kitchenCRATE to do my project was the timeline. That's what first got my attention. Then when Willy Stevens came out to explain the process to me everything was so professional and organized and friendly that I had such a good feeling about your company.
Every single person that I dealt with from kitchenCRATE was professional, efficient very friendly and courteous. My ideas and concerns were always considered and taken seriously. Another part of the process that I really loved was having Lindsey the decorator come to my home. She helped me so much and gave me invaluable advice as far as colors and ideas and I think that is what also truly gave me confidence in my decisions. 
I really didn't have any surprises… I was actually amazed at how the process went exactly on schedule! The only suggestion I would offer is that after my project was done and I needed to have things done from my punch list, there seem to be a bit of a lack of communication between team members. But my job got completed totally to my satisfaction.
I recommend your company to everyone who asks about my kitchen. People are truly shocked over how you can do the job in the timeframe allotted. Many people have had very bad experiences in this aspect. I am so pleased that I am actually thinking about having kitchenCRATE renovate the bathrooms in my home. And trust me, I wouldn't ask anyone back who did not do a wonderful job. 🙂
 Thank you so much for not only doing such a beautiful job on my kitchen, but for making this a very pleasant experience for me.
bC Mission Falls Circle | A Custom Bathroom Remodel in Elk Grove
Homeowner Mike reviews his custom bathroom renovation in Elk Grove from start to finish with kitchen & bath CRATE founder Scott Monday.
Explore Some of Our Most Recent Kitchen and Bathroom Remodeling Projects!
Heard Enough? Let's Get Started on the Kitchen or Bathroom of Your Dreams!
Get familiar with the different remodeling services we offer to see which CRATE package works for you, then check out our kitchen and bathroom calculators to get an estimation on your renovation project.