How kitchen & bath CRATE All Began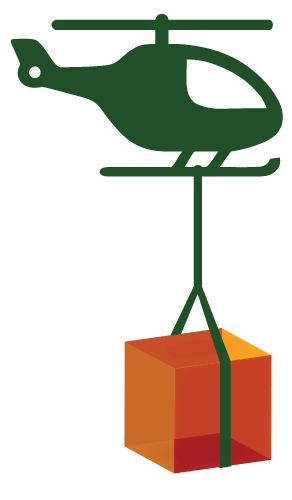 It all started at one of those members-only big box stores. Kitchen & bath CRATE's founder Scott Monday and his wife had just checked out and were walking down the aisle-of-big-ticket items, joking to each other about the fact that the store sold nearly everything except kitchen remodels.
The joke went further and soon there were absurd dreams of helicopter-delivered storage crates full of all the materials needed for a kitchen remodel. And of course, the renovation would be completed in under a week.
And after more joking, the thought dawned on Scott: why couldn't kitchen remodels be turned into a system. A system that could be repeated over and over. Sure, the materials would change, and each project would a little bit different, but there was certainly enough commonality between jobs to turn it into a formula, right?
Thus, kitchenCRATE (originally called kitchenBOX) was birthed in 2012 in Modesto, CA. At the time Scott and his former business partner, Jared Oller, owned and operated Trinity Renovation, Inc., a commercial and custom residential general contracting business. Over the next few years, Trinity Renovation, Inc. pivoted to offering kitchenCRATE and bathCRATE products only, and now operates the corporation in Modesto, CA.
Future Plans
At kitchen & bath CRATE, we're passionate about improving homes. There's nothing better than the look on a customer's face when they see the completed kitchen or bathroom of their dreams. We're also committed to maximizing the number of customers that get to enjoy this same feeling. That's why in the years ahead we'll continue to expand the CRATE footprint well beyond the Modesto region. We have our sights set on some pretty exciting northern expansion in the years to come!
Sign up for the CRATE Newsletter here and be among the first to hear of such things!
Curious If We Serve Your City?
Check out our locations page for a better idea of the areas we serve and get to know our friendly CRATE team to see who you will be working with!