Pendant Lighting Flair and Style
Lighting is a key element of a kitchenCRATE renovation. For kitchens with islands, peninsulas or exposed ceiling above the sink, incorporating pendant lights provides extra character and interest to your space.
Looking for Kitchen and Bathroom Remodeling Ideas?
Look no further! Our design breakdown page showcases design components we offer for your future remodel. Explore the different design elements below and let us know your favorites during your free consultation!


Different Lighting Styles:
Under-cabinet
Under-cabinet lighting is literally LED lighting placed on the underside of your upper cabinets. Under-cabinet lighting serves two purposes. First, it provides extra lighting to your countertop, allowing you to dial in that culinary masterpiece you're preparing for guests. Second, it adds ambiance to your kitchen when intense overhead lighting is too much and a dark kitchen is uninviting. Under-cabinet lighting is a simple and affordable way to increase the "wow factor" of your kitchen while improving functionality.
Recessed
Recessed lighting is exactly that- lighting that is recessed into the ceiling. It is extremely popular in kitchens as it helps to distribute the overhead lighting so you can see your workspace clearly (plus who wants those old, dated light boxes?). A big positive for recessed lighting is you can use LED lights that help you to save against your energy bill.
Chandelier
Chandeliers are usually a decorative ceiling-mounted light fixture. As opposed to pendant lights that have a single light, chandeliers have "branches" that intertwine and hold the lights. These classic lighting fixtures can really add sophistication to your space. Although we often think of the traditional chandeliers, chandeliers nowadays come in a variety of different styles, sizes, and contain a wide range of design accessories.
Pendant
Pendant lights are lights that are mounted into your ceiling but only have one light. Pendant lights are a great design element to go above kitchen islands or other areas of the room that need attention. When it comes to pendant lighting, there are thousands of styles that make it hard to choose which would be best for your space. When you do shop for pendant lighting, just make sure that it works well with the structure of your ceiling.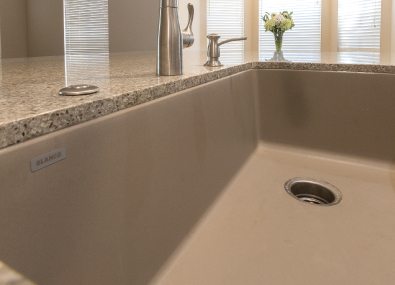 Silgranit
Silgranit sinks are granite sinks made by Blanco. These sinks are becoming very popular due to their durable nature and color options (currently available in eight different colors). These sinks are the same color all the way through, so in the rare occasion you have a chip or scratch, it will pretty much be undetected. These sinks are heat resistant up to 536º and resistant to staining as well as all household acids and alkali solutions. If you are someone that is hard on your kitchen sink, this option would be the way to go.
New! Silgranit Farmhouse Sinks!
Price: $$-$$$
Copper
If you're looking for a statement piece in your kitchen, a copper sink is your ticket. Aside from being aesthetically pleasing, copper has antimicrobial properties which basically means it kills off unwanted bacteria in just a matter of hours. Unless you apply a coating, the copper will naturally become darker with time. Acidic foods can even alter the patina so you need to be careful what foods or liquid you leave on the surface.
Price: $$$-$$$$
Cast Iron
Cast Iron sinks are exactly that– they are made by casting iron with porcelain enamel applied on top to eliminate rust. The enamel is not paint but melted glass that is applied on top, making these sinks highly durable and great at resisting stains and scratches. Cast iron sinks haven't just been popular for their durability but they provide a nice timeless look in your kitchen.
Price: $$-$$$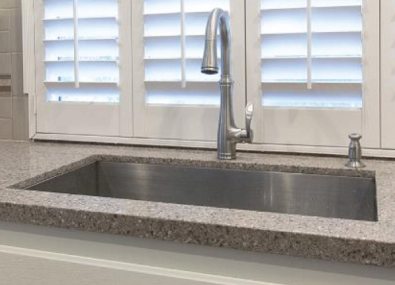 Stainless Steel
Stainless Steel is one of the more widely used materials for kitchen sinks due to its durability and price. Although stainless steel sinks match nicely with other stainless steel appliances, stainless steel scratches easily and water spots are hard to avoid.
Price: $-$$
How to Choose Your Countertop
Think about how you use your kitchen, the type of maintenance you want to have, and your price point. We can review the pros and cons of each countertop during your meeting. Take a look below at a few popular countertop materials.
Most Popular Countertop Materials:
Quartz
Quartz is not 100% natural. Since quartz countertops are manufactured, they come in a wide range of styles, colors, and you can often get the exact same slab when you order. Although Quartz is a very solid and durable stone, you won't want to put any hot objects on it as quartz can be damaged by hot objects.
Price: $$$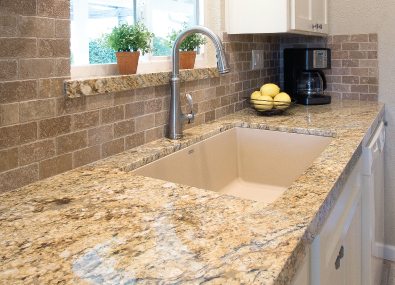 Granite
Granite is 100% natural stone that is mined from quarries all around the world. Granite slabs contain many different patterns and styles; no two granite slabs are the same. Because of their natural nature, they are slightly porous (not resistant to stains) and it is recommended that they be resealed at least once a year.
Price: $$$
Soapstone
Soapstone is a soft natural stone. Soapstone is mostly comprised of the mineral talc so it's a bit hardier than granite since it contains quartz. Despite being a stone, it is easy to stratch and must be oiled periodically to keep the coloring intact. Soapstone does allow for hot objects to be placed on it and does not stain. As for its coloring, soapstone will actually darken with age.
Price: $$$
Marble
Marble is the natural stone that is often associated with luxury and sophistication. It's look is easily recognizable, often seen in a white color with grey accent lines. It's light coloring and porous nature make it difficult to remove stains. It should be sealed between 2-4 times per year.
Price: $$$$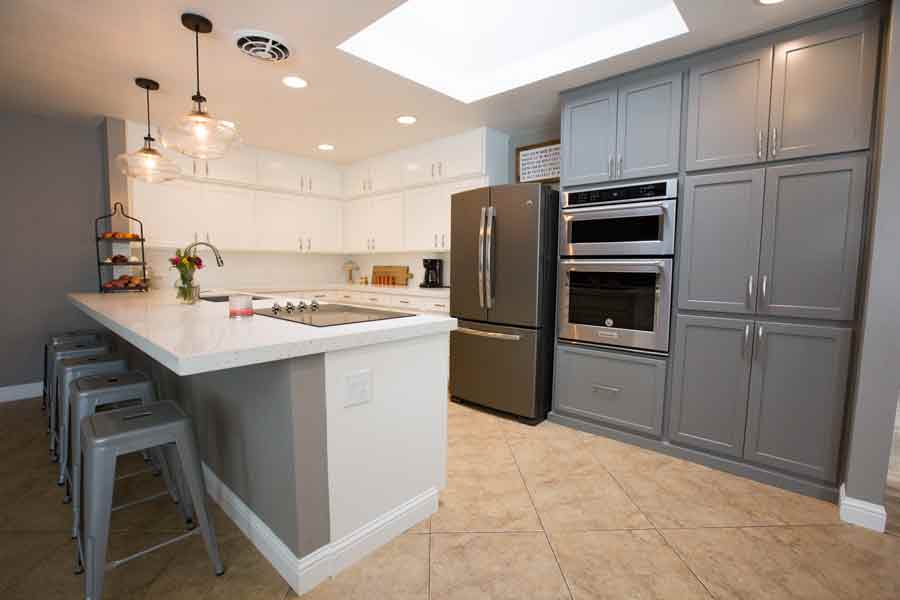 Question: I want to have an overhang at my countertop so I can provide extra seating in my kitchen but I don't like those corbels! They bump my knees! Any suggestions?
Answer: Yes! As a special add-on to our kitchenCRATE Classic, we can install steel straps into your countertop so you can have the benefit of the counter overhang without the corbels. Read more about the process here.
Different Kinds of Flooring: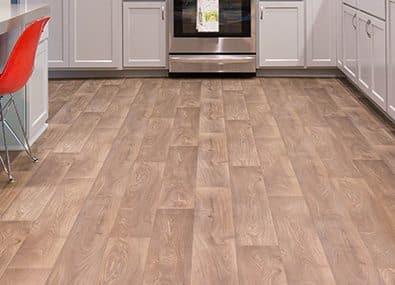 Vinyl
Vinyl is very affordable when you compare it to other flooring options. A benefit of vinyl is it's peel-and-stick capabilities that allow it to be installed over other materials quickly. If you have an uneven surface, vinyl tiles can be a great solution for a floor with excessive movement or cracks. Vinyl also comes in a wide range of different looks, patterns, etc. With it's "spongy" feel, if you're someone that stands in the kitchen for awhile, vinyl tiles can be easier on the joints. The downside is that vinyl isn't very durable but it is easy to replace.
Tile
Tiles are manufactured pieces of durable material, such as ceramic, stone, metal, or glass. A popular flooring product for the past several years is tile that looks like wood. Tile floors are a great choice for kitchens and bathrooms as they can withstand heavy foot traffic, water, and spills. Although the durability and hardness of the tile is very desirable, it is also it's biggest drawback. If you spend a lot of time standing in your kitchen, you will want to add a mat with padding to help relieve the pressure between your joints.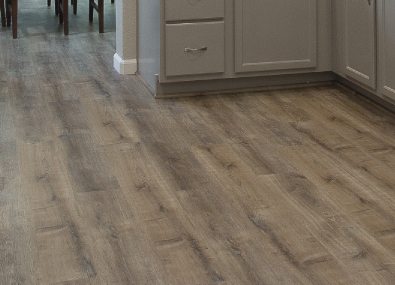 Laminate
Laminate wood floors are only wood in name and appearance. They are manufactured by adhering a printed laminate to pressboard and can be the least expensive floor option, running about $1 to $2.50 per square foot. These easy-to-install floors are about ¼ to ½ an inch in thickness and have a lifespan from 10 to 20 years. This makes them an excellent investment and they can keep your home looking great for a long time. However, they cannot be refinished and eventually fade and wear in high-traffic areas.
Hardwood
Real, true wood is used to create these wood floors. There are no man-made materials involved. These floors are much stronger than laminate or engineered wood and can last up to 75 years. They have an overall material thickness of up to ¾ of an inch and cost between $6.00 and $15.00 per square foot. Real wood floors are the most difficult to install, but they can be refinished multiple times. Real wood's durability will depend on the floor's finish coat.
Where to Next?
Now that you know the elements of your dream kitchen or bathroom find out how it compares to remodels we have completed in our blog or start pricing your renovation using our kitchen and bathroom calculators.