Get ready to feast your eyes on a fantastic new bathCRATE in Modesto, CA!
If it's all about the details then this job is certainly not lacking. From the two 36" vanities with a marble top to the oil-rubbed bronze fixtures, this project certainly came together in a fantastic way.
Of course, we've saved the best for last, that breathtaking stone accent wall! The homeowner wanted to create a focal point and this stone wall was the perfect solution. The hues in the wall pull together all the colors from the counter-top, shower field tile, and bathroom floor tile.

But don't just take our word on how well this job turned out.  Look below for the project specifications and extensive before and after pictures!
Homeowner Testimonial:
They remodeled our main bathroom and did a fabulous job. Daniel (the sales rep) and Jennifer ( the interior decorator) provided tremendous assistance in designing the project and Richard (the project manager) made sure everything was completed right the first time and that the project was completed on time. The crew took great pride in their work and left the place clean each day. BathCRATE has the process dialed in and it was a pleasure to work with them.
Bathroom Remodel Before & After Project Complete Pictures
(Click each image to enjoy a larger view.)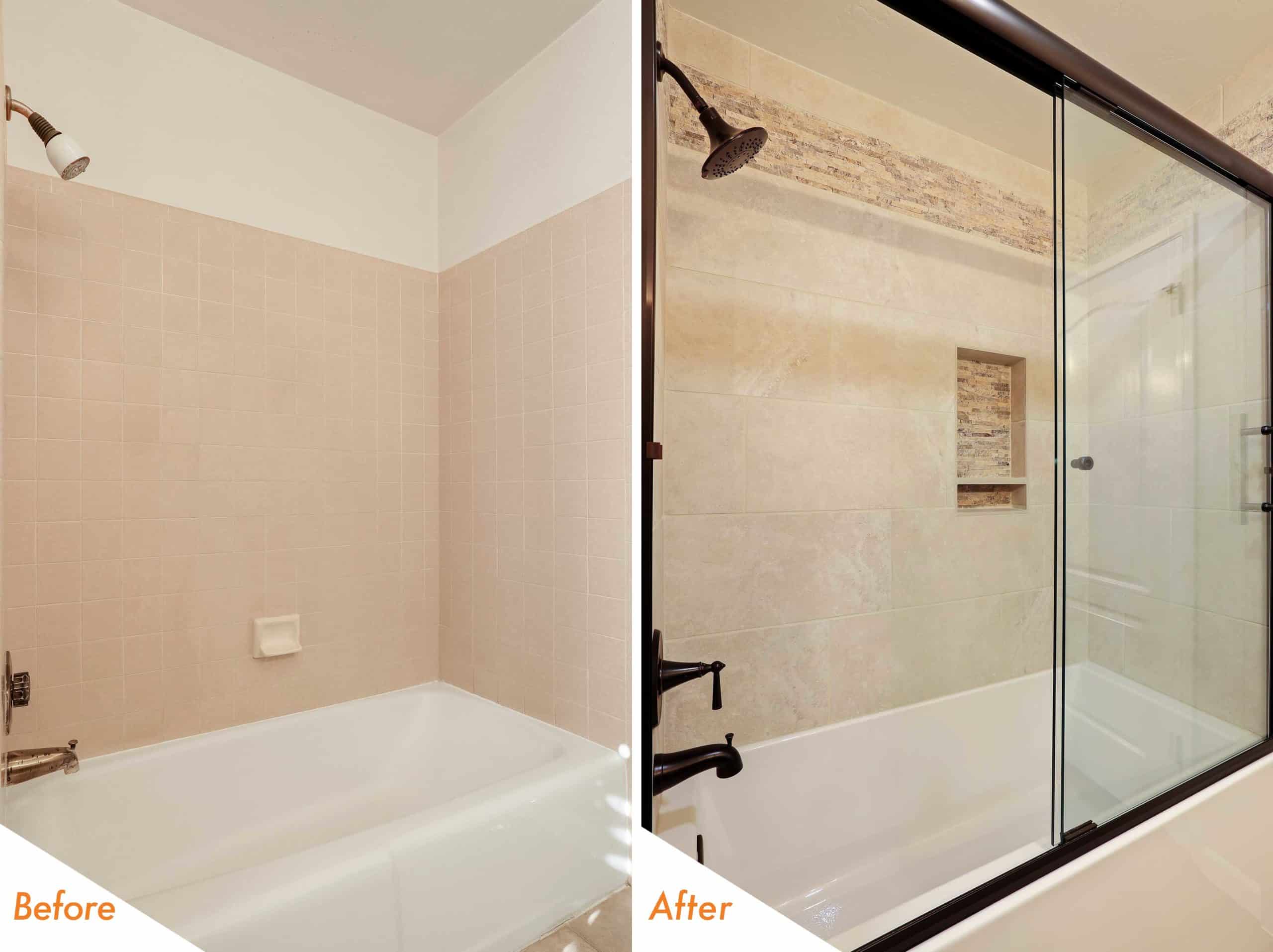 Technical Details
Interested in Bathroom Remodels? Contact Us Today!
Perhaps this bathroom at Fruitridge Drive in Modesto reminds you of your home. Perhaps you like the layout of your bathroom and the cabinets are in good condition, but you are ready for a completely new look and feel. BathCRATE can make this happen in just a few days.
Just click here to schedule your phone consultation using our online scheduling system. Or feel free to call us direct during business hours at 888-995-7996!
Scott Monday is the founder and CEO of kitchenCRATE and bathCRATE. Follow him on Facebook or Linked-In.
Want to see more project profiles just like this? Want the latest kitchenCRATE projects, news and discounts delivered directly to your inbox? Sub below!