How about that new shower configuration?! As you'll see in the before and after photos, we had a blast on this project. Right off the bat, you'll notice we removed the prior shower location and deleted the tub. Then, we prepped the prior tub location for a shower by doing the following: demoed the existing window, demoed a portion of the long pony wall & converted it to a bench, framed & installed a new window, plumbed for a new shower configuration, and more! One key item to note for a bathroom remodel on a post-tension slab foundation like this one, this type of foundation makes it very difficult to move to plumb, because there's always a risk of snapping a cable. In lieu of this, we opted for a linear shower drain which went well with the relaxing, spa-esque design. As you can see, the new shower tile is stunning and the cool tones of the shower field tile provide the perfect contrast to the darker, pebble shower floor.
Another highlight from the project is the new linen and storage closet. We did away with the old shower and in its stead is this functional closet that offers the best storage solution for towels and toiletries. Perhaps our favorite part of this project is the custom-built and beautifully stained vanity. This wall-to -all vanity is more functional for the customer with a total of 8 drawers and the stain color complements the rest of the design by carrying in an accent of dark-wood grain.
But, don't take our word for it. See for yourself in the rest of the before & after pictures below!
Project Complete Pictures
(Click each image to enjoy a larger view.)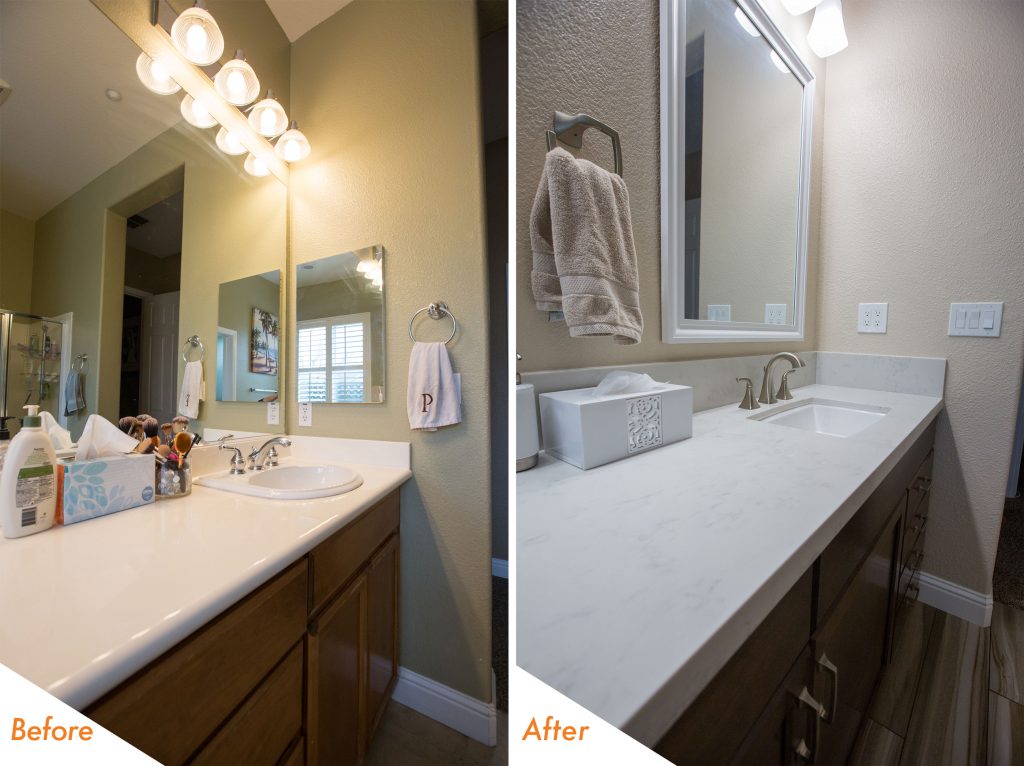 Technical Details
Are you next?
Does this bathroom at Pristine Way in Brentwood remind you of your home? Perhaps you like the layout of your bathroom and the cabinets are in good condition, but you are ready for a more modern look and feel. BathCRATE can make this happen in just a few days.
Just click here to schedule your phone consultation using our online scheduling system. Or feel free to call us direct during business hours at 888-995-7996!
Scott Monday is the founder and CEO of kitchenCRATE and bathCRATE. Follow him on Facebook or Linked-In.
Want to see more project profiles just like this? Want the latest kitchenCRATE projects, news and discounts delivered directly to your inbox? Simply click the button below!