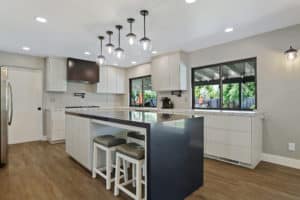 Whether it's for an evening meal or a holiday celebration, your kitchen is where everyone you love converges. That's why this important space should meet your functional needs while showcasing your own unique style. A kitchen remodel has the potential to create a room perfectly tailored to you and your lifestyle, but too often homeowners get bogged down by the overwhelming reality of finishing one of these projects. Kitchen remodeling doesn't need to feel unmanageable, though. That's why we put together this handy guide, outlining how to plan a kitchen remodel so that your project goes smoothly from start to finish.
Step One: Developing a Budget
Most kitchen remodeling projects that go badly can count unrealistic budgeting as one of the primary causes. The best way to avoid this pitfall involves planning ahead. In order to get an idea of what you can expect, financially speaking, do some research on the average cost of conducting small, mid-range, and large-scale kitchen remodels in your area. Be sure to investigate what upgrades commonly get included in these projects, as some may be more useful to you than others. For example, do you have old appliances that need to be updated? Can your cabinetry get by with a facelift, or are the boxes actually damaged? Would hardwearing countertops be worth paying a bit more for?
While the return on your investment in the event you sell your home isn't the only financial factor to consider when planning a kitchen remodel—you'll be the one using this space until that time, after all—it would be worth investigating as you budget. Many potential home buyers will pay more for cabinetry with functional upgrades—like soft-close doors and drawers—and additional storage space. Countertops that combine durability with a versatile appearance also tend to improve a home's resale value.
Step Two: Finding a Contractor
Unless you have a lot of experience handling large-scale DIY projects, you need to partner with a reliable contractor for your kitchen remodel. After all, the last thing you want is to discover you're out of your depth after you've completely dismantled one of the most-used rooms in your home. Design-build firms, which handle your project through every step of the kitchen remodeling process, often offer homeowners the easiest experience.
When evaluating contractors, check expertise and reputation. Kitchen remodelers boasting multiple years in business and high numbers of completed projects have likely seen everything there is to see when it comes to remodeling and possess the skills needed to create a kitchen you'll love. Additionally, former customers will let you know whether a contractor can stick to a timeline and budget, which is important during any kitchen remodel. Finally, take a look at the warranties offered by your contractor. Those willing to stand behind their jobs will put more effort into ensuring things go right the first time.
Step Three: Coming Up With a Design
After you've determined your budget and found a reputable contractor to partner with, the fun begins. Working with a certified kitchen designer—either one who works with your kitchen remodeling firm or one who possesses National Kitchen + Bath Association (NKBA) certifications—will prove helpful during this part of the process. These individuals possess extensive experience in turning dream kitchens into a reality, and they'll help you create a functional and beautiful space that feels like a natural extension of your home.
There's no need for your kitchen remodel to feel overwhelming, especially if you partner with the right contractor. For homeowners in California, there's only one name you need to know: kitchen & bath CRATE. Contact us today to learn how we can create your dream kitchen using our signature turnkey process to keep your project on schedule and on budget.