If you are considering an upgrade for your old kitchen or bathroom, then you need to be educated about the Three R's. Not reading, writing, and arithmetic, but the Three R's of kitchen and bath remodeling: refinishing, refacing, or replacing. What are the differences between these and which is the best option for you?
Refinishing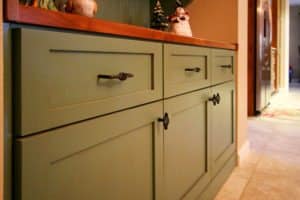 Cabinet refinishing is normally the most economical choice because it makes almost exclusive use of your current cabinet bases, doors, and drawers. The basic approach is to recoat your existing cabinets with new paint or stain. Refinishing has an unnecessarily poor reputation because many refinishing jobs turn out looking badly.  Of course, those are the jobs people notice because professional high quality refinishing leaves the kitchen looking brand new!
The experts at KitchenCRATE/BathCRATE make extensive preparations to your old cabinets by removing everything before sanding and priming the bases inside and out. The cabinet doors and drawers are sent off-site to a professional painting booth where they are refinished according to exacting standards. After curing, they are returned and reinstalled on the repainted bases. The end result is magic. A like new kitchen or bath!
In fact, professional cabinet refinishing can be more than the most economical choice. If you have high quality older cabinets, the end result is often better than what you get brand new!
Refacing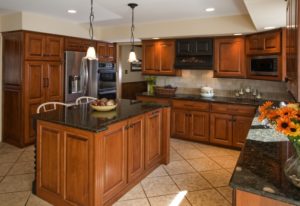 Refacing is typically more costly than refinishing, but the results can be stunning! This a great option for homes with cabinet bases and layouts that form solid bones but are dated or out of style. Refacing involves replacing the cabinet doors and drawer fronts in your kitchen or bath. Sometimes existing cabinet elements are covered with a new veneer.
Refacing gives homeowners a vast selection of styles and grades to choose from. The only remnant of the old kitchen will be the strength of quality cabinet bases and the general shape of the kitchen layout. The overall look and feel of a refaced kitchen are transformative and new!
Replacing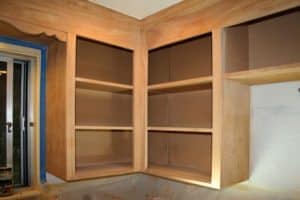 If your kitchen or bath cabinets are in terrible condition or if the layout of your room is awkward, then it may be time to start over. Replacing cabinets makes it possible to completely reboot the most used rooms in your home. Cabinet replacing may be the most expensive choice, but you can kiss everything you did not like about your old bath or kitchen goodbye.
With cabinet replacing the old cabinets are completely removed. This allows for a total redesign of the space. The only limiting factor is the square footage and shape of the room. A huge range of choices also helps when it comes to budgeting as well. The total rebuild that comes with cabinet replacing means a dream kitchen and bath can become reality!
Not Sure which Choice is Right for You? Contact Our Professionals Today!
KitchenCRATE/BathCRATE can provide a solution for any cabinet options, whether refinishing, refacing, or building new custom cabinets!
Click here to set-up your free phone consultation.  It'll only take 60-seconds, we promise!
Want the latest kitchenCRATE projects, news and discounts delivered directly to your inbox? Simply click the button below!