Me or the Pros? Who Should Refinish My Cabinets?
Just like the designer dresses on the Oscars' red carpet, your cabinets can either steal the show or raise some eyebrows. If your cabinets are in need of a makeover, should you attempt to refinish them yourself or do you leave the job to a professional?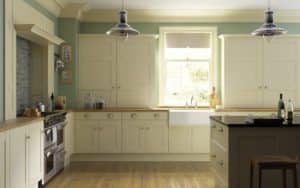 The best place to start is to have a clear idea of what you are dealing with by figuring out what materials and finish were used for the existing cabinets. This step can be quite involved as your cabinet could have one of any number of finishes: wax, shellac, water-based, varnish, oil, latex paint or oil-based paint. If you bring in a professional they can quickly identify the finish and help come up with the best plan of attack.
When refinishing your cabinets there is some disassembly required. You will need to remove all cabinet doors and drawers. Next, remove all hinges and hardware. Labeling the hardware as you go will save you the headache of trying to remember what goes where when it comes time to put everything back.
Taking the time to fully strip or sand everything will lead to the best results. For painting cabinets, a paintbrush and small roller are recommended. If you are staining your cabinets, it is important to keep in mind that the type of wood will affect the final color. If you have a very particular outcome in mind, a professional can help select the best stain for the wood of your cabinets.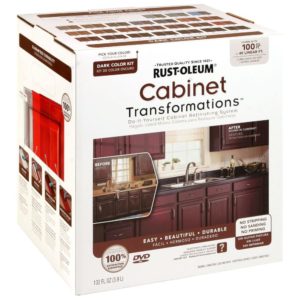 If your goal is to return your cabinets to their former glory rather than going for a new look, the answer is a refinishing kit. While you still need to remove all hardware, refinishing kits don't require any stripping or sanding, making the process much less labor intensive. These kits typically included a wood cleaner, color enhancer, and protective top coat. While it will not dramatically change the color, it enhances the original color and adds a protective coat.


Refinishing cabinets has a reputation for being painstaking and incredibly time-consuming for a reason. Having a clear picture of what is involved in the DIY route can help make it easier to decide if you want to make that investment of time. If time is a factor, going with a professional is your best option. Also, given their familiarity with the tools and materials, a professional will be able to efficiently deliver the best results.
KitchenCRATE/BathCRATE is Ready to Help! Save Yourself the Time and Hassle of Refinishing Your Cabinets and Give us a Call Today!
Click here to set-up your free phone consultation.  It'll only take 60-seconds, we promise!
Want the latest kitchenCRATE projects, news and discounts delivered directly to your inbox? Simply click the button below!