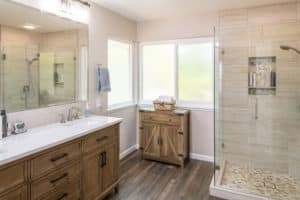 It's easy to understand why you may find the prospect of a bathroom remodel to be exciting. After all, what other project will provide the opportunity to design and create a spa-like retreat that you can use without ever leaving your home? Before you jump into actually remodeling your bathroom, though, you want to make sure to partner with a contractor you can trust to do the job right. The last thing you want is to experience a drawn-out project that goes over budget and leaves you with a space that sounded better on paper than it looks in your home.
So, how should you go about hiring a bathroom remodeler? Before committing to a contractor, it would be a good idea to evaluate their:
Referrals, Reviews & References
One of the best ways to find a bathroom remodeler worth partnering with is through referrals. Have any friends or family members in the area had their bathroom redone recently? If they have, it would be worthwhile to ask them about their experience. They'll be able to tell you whether they're happy with their bathroom remodel or whether they found it difficult to work with a particular contractor.
In the absence of personal referrals, you can also read through customer reviews. Most reputable bathroom remodeling companies have a presence either on Google or Yelp! Read through these, paying special attention not only to the quality of work but also to how the bathroom remodelers handled themselves throughout the project. You want someone who isn't stressful to work with and who has proven capable of keeping their word. If your contractor has pictures or videos of past work for you to review, that's even better—you can get a good idea of the kind of bathroom you should expect to enjoy when your project is finished.
Years of Experience
Whether you want to turn your master bathroom into an oasis or ensure your guest bath makes a good impression, it helps to partner with a bathroom remodeling team with plenty of experience. Not only does a long tenure indicate consistently reliable service over the years, but it also indicates whether a remodeler will stick around to honor any warranties if necessary.
At this point in your research, you should also determine whether your bathroom remodeler has experience completing the kind of updates you want. If you're looking for a complete transformation, for example, you probably shouldn't partner with a company primarily known for performing "wet area" remodels—projects that only address the bathing areas in a bathroom. You might also examine whether the company you want to handle your bathroom remodel is a design-build firm capable of handling your project from the initial interior design through demolition and to the end of construction. These firms generally make remodels easier for the homeowner.
Contract Provisions
The last step of evaluating a bathroom remodeler is to read through the proposal and contract they offer you. Not only do these documents safeguard your investment, holding a contractor to complete work as promised, but they should also outline what will happen if your bathroom remodel reveals any unexpected surprises when it comes to plumbing or electrical systems.
A good contract should include:
A precise estimate for the cost of work and an easy-to-understand payment schedule
A timeline for your project, with expected dates for design meetings, the project start, and completion
The exact scope of remodeling work that will be accomplished during your project
While this document protects you during your bathroom remodel, it also indicates whether your remodeler is confident in their abilities. Someone who's willing to put a timeline and cost into writing is someone who will finish your project on time and on budget.
Of course, if you're looking for a reliable bathroom remodeler in California, then you can always turn to kitchen & bath CRATE. We use a signature, turnkey process in order to ensure that all of our remodels go as smoothly as possible and result in stunning baths that homeowners love. Contact us today to learn more about our skills.