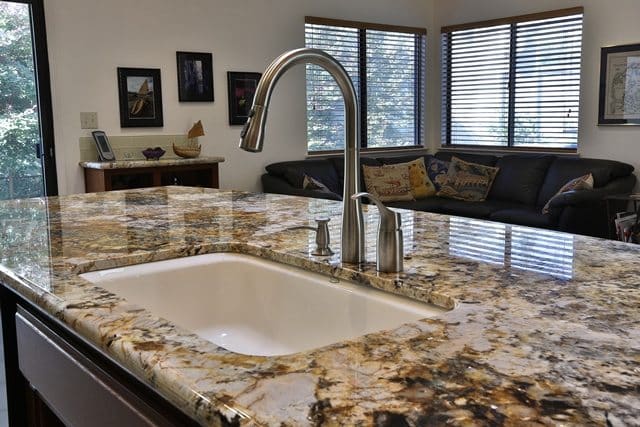 At kitchenCRATE, we talk to a lot of customers about the care and maintenance of their kitchen after their project is complete.
One of the biggest questions customers have is how to properly care for their granite countertops.
Here are the basics of granite maintenance.  Follow these tips and you'll surely enjoy your granite tops for decades to come:
Don't Be Found Guilty of Granite Abuse
It may sound like common sense, but show your granite countertops some love:
Use a cutting board when cutting or tenderizing on top of your granite.
If you have a cantilever counter, be sure your teenage son doesn't hop up on there to relax while he's throwing back a handful of Cheetos. (At kitchenCRATE we reinforce all cantilever tops, but it's still not a good idea to test the limits of the supports.)
If you pull a burning-hot skillet or pan off the stovetop, don't just set it on the granite, use a trivet.
Will your granite hold up to all the abuses above? Probably, but why take the risk when some simple preventative measures will ensure the pristine condition of your countertops.
Clean-up Quickly
Most granite tops, especially those with a polished finish and medium to dark in color, hold up well to staining.  However, certain products like oils, dyes and red wines can certainly stain or discolor a granite top.  Here's a tip: each night take a quick look at your counters and wipe them down with a sponge and water (with or without a mild soap).  Not only will this make your kitchen feel fresh and clean the next morning as you prepare your cup of coffee, but you'll rest easy knowing nothing is seeping into the pores of your natural stone top.
Seal Your Stone Every 6 Months
Twice a year, take a drive to your local big box home improvement store and pick up a bottle of Miracle 511 Impregnator Sealer.  Despite its rather unsexy name, the stuff works well on granite (as well as other hard surfaces in your home).  Be sure to follow the directions for application on the back of the bottle, but in essence, you'll be using a white towel and the sealer to apply a coat to the countertop.  It's a simple as wiping the countertop down with water.  You might want to apply the sealer at night before going to bed, giving it well beyond the recommended 3-hour cure time to seep in and do its work.  For some super-detailed info about the product, you can download the MSDS/Specification sheet by clicking here.
Before you can seal your new granite top you need to buy your new granite top.  If you're in the market, consider kitchenCRATE, a 7 day, $15,000 kitchen remodel.
Just click here to schedule your phone consultation using our scheduling system.  Or feel free to email us at [email protected] or call us direct during business hours at 888-995-7996!
Scott Monday is co-founder and CEO of kitchenCRATE and bathCRATE. Follow him on Facebook, Google+ or Linked-In!