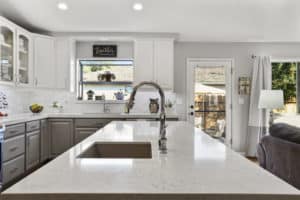 If you're like most homeowners, you spend a lot of time in your kitchen—making meals, taking an afternoon snack break, catching up with friends over a charcuterie board. So why settle for passing the hours in a space that feels bland? If it's time to give your kitchen a makeover, we say be bold! Here are four kitchen design ideas that can help you freshen up your space:
1.   Custom Storage to Cut Clutter
Have you found yourself sitting down on the floor as you try to dig a baking dish from the back of your cabinets? Do you store all your knives, spoons, whisks, and oven mitts in a corner on the counter? Perhaps it's time to invest in new cabinetry with personalized storage solutions.
Cluttered countertops can make an otherwise stylish kitchen feel cramped or dirty. They can also take away from the elements that should be enhancing the style of your kitchen: its countertops, cabinets, and backsplash. But if you invest in custom cabinetry during your kitchen makeover, you can ensure all your kitchen essentials remain tucked out of sight, even though they'll be easy to access when you need them. Custom cabinets often feature specialized storage solutions, like racks for pans, organizers for knives, and pull-out shelving.
2.   Your Cabinets, but in Color
We all love white cabinets—they're serene and timeless. But if you're looking for design ideas that inject a bit of energy into your kitchen, updating the color of your cabinetry is a good place to start. Cabinets in warm, muted tones are on the rise with homeowners looking for a kitchen makeover right now. These colors give spaces a cozy and relaxed feel, perfect for inspiration while you cook dinner or pass down traditional holiday recipes to your kids.
If you want, you can also add a bit of energy into your space by opting for more colorful accents. Consider a dusty blue island or a bank of lower cabinets painted a refreshing aqua hue. When paired with subtler kitchen elements, these statement cabinets draw the eye without overwhelming the senses.
3.   Countertops as a Counterpoint
If your cabinets set the tone for your kitchen, your countertops should complement the style of your room while providing it with balance. What do we mean by this? If you're making a statement with your cabinetry, opt for subtler counters—perhaps a pale quartz or wide-veined marble. But if your cabinetry is milder, it may be time to boldly go somewhere new with your countertops. Dark soapstone, rich granite, intricate quartz—you have plenty of options during a kitchen makeover if you want to make your countertops shine.
4.   Backsplashes That Don't Fade Into the Background
Your backsplash plays an important functional role in your kitchen, protecting your walls from sizzling oil or bubbling pasta sauce. But that doesn't mean that your backsplash should fade into the background. As you design your kitchen, think of your backsplash as the backdrop of a fresher, brighter space. A monochromatic but intricate backsplash can add a touch of luxury to your space, while a colorful backsplash can draw the eye and add a touch of dynamic energy to an otherwise relaxed room.
If you're looking for more kitchen design ideas to freshen up your space, the experts at kitchen & bath CRATE can help! Contact us today to learn more about our projects.