Our first kitchenCRATE project in Modesto's Dutch Hollow neighborhood is underway!  This 1981 home is getting the standard kitchenCRATE treatment, and we'll be in and out before you can pronounce "Konynenburg" correctly!
Why the Homeowner Chose kitchenCRATE
After experiencing the "joys" of being their own contractor on a few past projects, this homeowner decided to turn the entire project over to kitchenCRATE.  They loved that fact that kitchenCRATE handled the project start-to-finish, and could easily be done by the time they hosted a large social event in the home.
With the holidays right around the corner, many kitchenCRATE and bathCRATE customers are scrambling to get their jobs completed before the parties begin.  And we're glad to help, using our unique interior design process to quickly select materials and get moving on the projects!
The Current Kitchen Specifications
Countertop and Backsplash: White 4″ square tile with brown grout.
Cabinet Finish: Cabinets in need of significant refinishing.
Cabinet Hardware: Outdated pulls
Sink: White cast-iron, original to the kitchen.
Faucet: Standard chrome, low-rise.
KitchenCRATE Add-ons
The only add-on to this project was running a new gas line to convert the electric cooktop to gas.  That's it!  Everything else was standard kitchenCRATE at its best.
The kitchenCRATE Project Scope
The kitchenCRATE team began the transformation on Thursday, October 31st, 2013. On day 1 the kitchenCRATE team set the kitchenCRATE, installed plastic walls for dust/fume protection, protected the flooring, removed and set-aside the existing appliances, demolished the countertops and backsplash, repaired the counter sub-top, removed the doors and drawers for off-site painting, templated for the new granite tops and prepared the remaining cabinet boxes for prime and paint. During the following 7 days (the addition of the gas line to the cooktop is adding an extra day to this project), the kitchenCRATE crew will:
The Before Pictures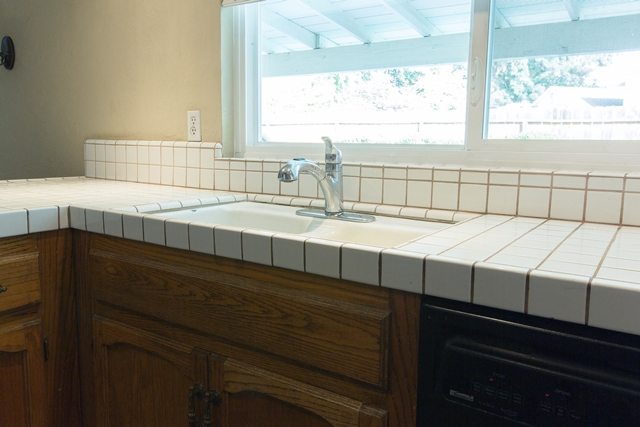 Want to learn how kitchenCRATE can help you and your kitchen?  Simply click here to schedule your phone consultation using our online scheduling system. Or feel free to call us direct during business hours at 888-995-7996!
Scott Monday is co-founder and CEO of kitchen & bath CRATE. Follow him on Facebook or Linked-In.