The CRATE team is so excited to show you how our most recent kitchen renovation turned out, this time in Modesto, CA!
Cool tones are all the rage for the last few years, and we love the design decision to combine that with the rich, warm feel of a stained island! Our favorite feature of this remodel has to be the removal of the upper cabinets to incorporate a more open concept. A few more highlights of this renovation are the beautifully refinished cabinets, granite countertops, glazed ceramic tile backsplash, and LED can lights!
We just love the gorgeous design of this recently completed kitchen remodel! Scroll down to read the customer's testimonial and see even more before & after images!
Homeowner Testimonial:
More companies should run like this. If you're looking to remodel your kitchen at a reasonable price within a reasonable timeline with no headaches, then this is the company for you.
I've had some remodeling done in the past but none of them compared to the organizational excellence of this company.   My wife and I were blown away by the results and were greater than what we envisioned.  We have received many compliments from family and friends and I typically like to point out that the reasons why we would recommend them:
-We spent about a total of five hours going over the project before any hands-on work took place.
– I felt that Daniel and Lindsay really tried to understand the look and feel we were going for.
– They laid out a detailed plan of work, labor, cost, and timeline of activities that we could track.
– The project manager Aaron, checked in frequently with the team, and they monitored the work via the web.
– The Team was super polite (Mark, Bill, Matt), and aimed to please.
– While no project goes perfect the crew resolved any issues immediately to stay on track with the timeline.
– Overall project took 2.5 weeks which was convenient for my family.
– They gave us a week to try out the kitchen and touched up any issues we found.
– The Project Manager Aaron was honest about quality issues he was not pleased with and reworked them to meet his high standard.
Kitchen & Bath CRATE has set a new standard of service that I now expect from this point forward with other companies.  My wife and I are already talking about working with them again to remodel our bathrooms.
There is a reason why they have great reviews, so you have nothing to lose by scheduling a consultation with them today!
 Project Complete Pictures
(Click each image to enjoy a larger view.)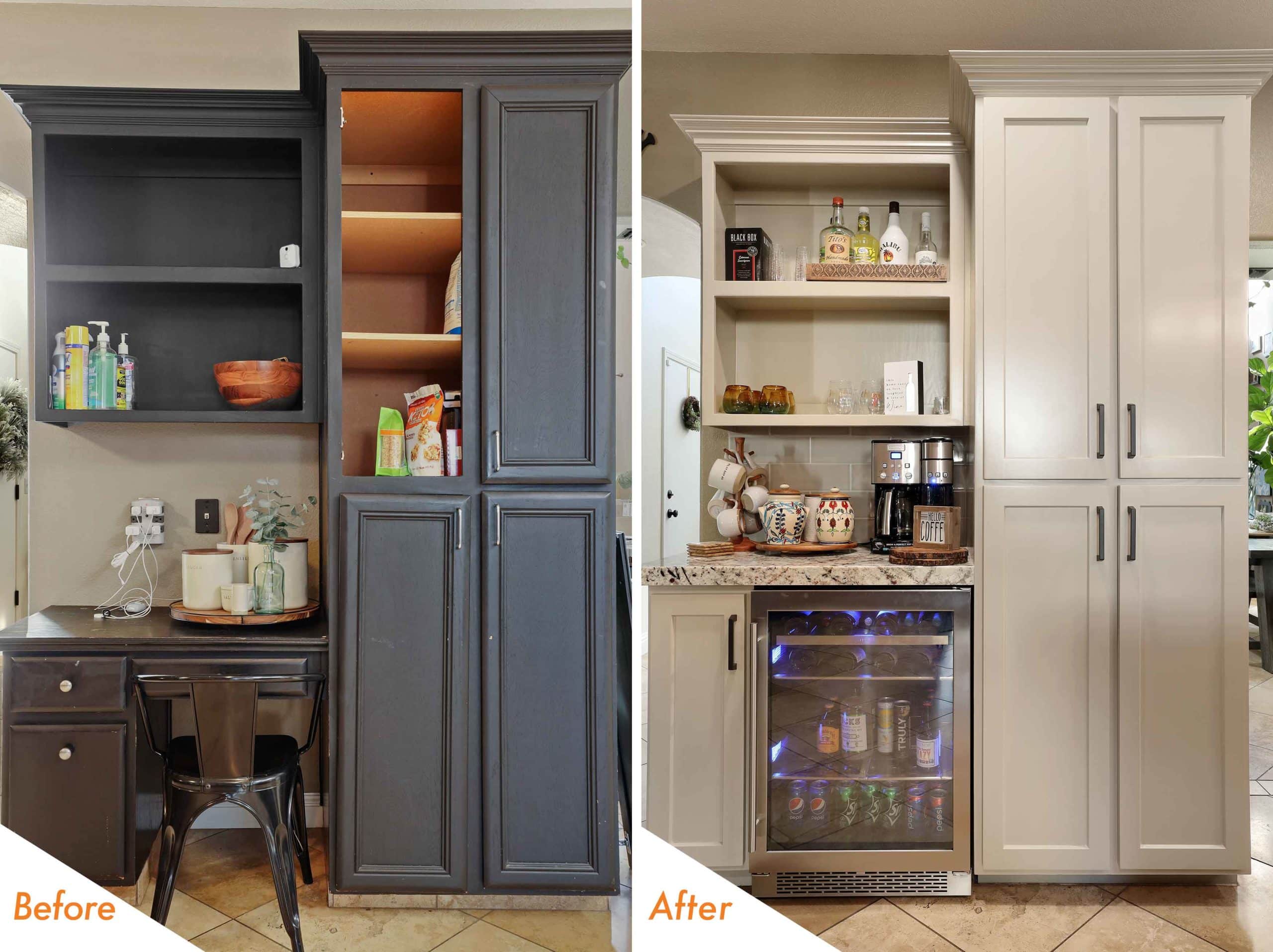 Technical Details
Is Your Kitchen or Bathroom Next? Contact Us Today!
Perhaps this kitchen at Carousel Drive in Modesto reminds you of your home. Perhaps you like the layout of your kitchen and the cabinets are in good condition, but you are ready for a completely new look and feel. Kitchen&BathCRATE can make this happen in just a few days.
Just click here to schedule your phone consultation using our online scheduling system. Or feel free to call us direct during business hours at 888-995-7996!
Scott Monday is the founder and CEO of kitchenCRATE and bathCRATE. Follow him on Facebook or Linked-In.
Want to see more project profiles just like this? Want the latest kitchenCRATE projects, news and discounts delivered directly to your inbox? Simply click the button below!