The CRATE team is so pleased to present another recently-completed kitchenCRATE in Modesto, CA!
We just love the bold use of color and rich finish in this project. One of our favorite parts of the CRATE design process is creating an environment where customers can get EXACTLY what they want. In this case, it was beautifully-stained cabinets, granite tops, and a complimentary wood-look tile flooring.
Scroll down to read the customer's testimonial and see even more before & after images!
Homeowner Testimonial:
I cannot say enough good things about kbCRATE. From the initial consultation through final punch list completion, everything went smoothly and was completed in a timely fashion. The staff provided helpful, creative insight. They arrived on time every day and left a clean workspace. Even change requests and adjustments were greeted with a smile and a, "No problem, we can definitely do that," from Chris Burger our project manager. The final result is PRECISELY what we wanted in terms of function and appearance. The level of finish work was top drawer and the kitchen is beautiful. These guys will renew your faith in the construction industry.
 Kitchen Renovation Before & After Pictures
(Click each image to enjoy a larger view.)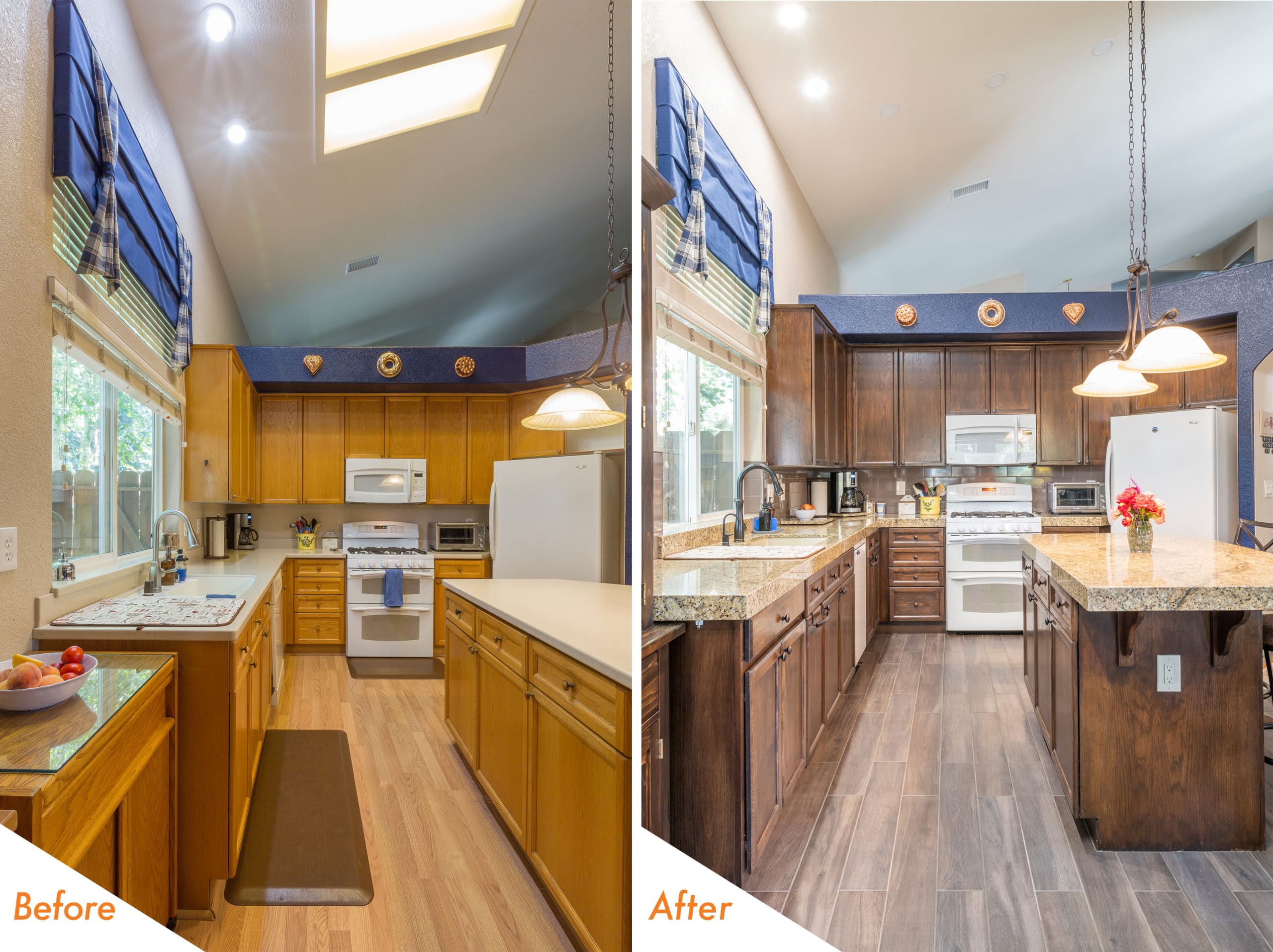 Technical Renovation Details
Is Your Kitchen or Bathroom Next? Contact Us Today!
Perhaps this kitchen renovation at Center Court Drive reminds you of your home. Perhaps you like the layout of your kitchen and the cabinets are in good condition, but you are ready for a completely new look and feel. Kitchen&BathCRATE can make this happen in just a few days.
Just click here to schedule your phone consultation using our online scheduling system. Or feel free to call us direct during business hours at 888-995-7996!
Scott Monday is the founder and CEO of kitchenCRATE and bathCRATE. Follow him on Facebook or Linked-In.
Want to see more project profiles just like this? Want the latest kitchenCRATE projects, news and discounts delivered directly to your inbox? Simply submit the form below!